In today's world, the concept of the workplace is far from static. Both external drivers and internal pressures—from advancing tech to evolving employee expectations—are significantly impacting the traditional work environment as we know it.
Higher education is far from immune. With almost 50% of the total academic space dedicated to 'workspace' on most campuses, facilities leaders must plan for the impact of these changes. At the Higher Ed Facilities Forum, Niraj Dangoria, Associate Dean of Facilities Planning and Management at Stanford University's School Of Medicine, explored this evolution with a look into the modifications underway in the capital of workplace innovation: Silicon Valley.
What's In A Workplace, Anyway?
According to Dangoria, the word 'workplace' itself is meaningless: it only forms when you add two critical ingredients—people and place—and bring them together.
"Both components have their set of influencers, such as colleagues, transportation, quality of life, technology, and parking. When any one of these influencers goes out of sync, the equilibrium gets disturbed quite a bit, which impacts the workplace," Dangoria said.
The concept of "activity-based working" (AWB) is the latest buzzword floating around Silicon Valley, and it's beginning to enter into the national vernacular as well. The concept of AWB was developed by Eric Veldhoen, a Dutch consultant and the author of The Demise of the Office. The basic premise of AWB is that when people choose where to sit, they structure their days more efficiently. Employees are more conscious of what they're going into the office to do and why they're going to do it, and thus, the company as a whole is more productive.
Google, unsurprisingly, was an early adopter of the AWB model, leading Dangoria's team to pay their office a visit. "Though these spaces were extremely innovative and appealing to twenty-something millennials, it's hard to imagine that our faculty would take to this environment," Dangoria shared.
Dangoria's research continued with an analysis of Dan Schawbel's "Top Workplace Trends for 2018," published annually in Forbes.
Top Workplace Trends of 2018
More human interaction

The next wave of learning credentials

Focus on upselling and retraining current workers

Artificial intelligence becoming embedded in the workplace

Financial and mental wellness get prioritized

Financial burnout causes more turnover

Workforce decisions sway consumer behavior

Companies take diversity more seriously

Deregulation of labor laws

The aging workforce
While many of the trends on Schawbel's list apply to the higher ed industry, Dangoria believes there are several in particular that will have an outsized impact within the next few years, such as the rise of AI and IoT.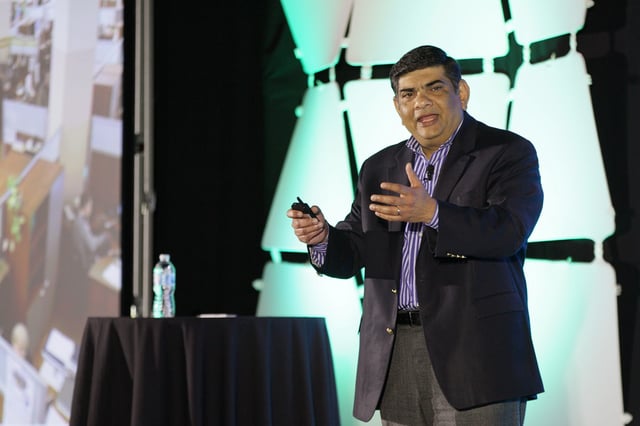 At Stanford, Dangoria's team has seen the positive impact of AI on the business operations side. The old process—submitting vendor invoices via paper—was replaced with an online system. As a lean campus, Dangoria's team measured the impact of scrapping paper: the result was saving .25 FTE. Stanford's efforts also involved giving each employee an iPad to close work orders in real-time, resulting in a 70-80% reduction in the turnaround.
"This is just one example, which is less about artificial intelligence and more about where we are going to go. It won't be long before the invoices are processed automatically and only anomalies are picked out for human review by an accountant."
Dangoria believes many lower-level, process-oriented jobs will cease to exist, perhaps requiring one accountant instead of three. "AI and IoT will work together to create a greater intelligence and a greater impact on the work we're doing. It's there in bits and pieces in many places, but it's coming. We aren't prepared to deal with all the data quite yet—but when we do, it will get better."
Mobility is another essential factor in any conversation about the evolving workplace. The fact that most Americans are continuously working has little shock value: it's easy to see by taking a look around any airport or public space with Wifi. However, Dangoria believes that technology hasn't quite lived up to the big promise of widespread mobility yet.
"When you think of the user interface of the telephone, everything has essentially changed. Yet, our interface in office technologies hasn't changed much—and certainly not with the same degree of sophistication and simplicity," Dangoria said.
However, he believes we're moving toward a model where the laptop will become a single source of communication. When that day comes, higher ed must be prepared for the question: "What are you going into the office for?"
Local & Regional Influences
Universities must be tuned in to more than just national trends in order to survive; special local influences are another important consideration. For the Stanford School of Medicine, a $1.4 billion annual enterprise with 2,400 faculty and three million square feet of space, there are several geopolitical issues impacting the university's growth, including a lack of land to build on, air quality, and traffic.
However, despite these problems, the fact remains that growth is both inevitable and mandatory. "If we're not growing, we're falling behind," Dangoria asserted.
Finding and retaining quality employees is a particularly tough challenge considering the school's proximity to tech giants like Google, Apple, and Twitter. In California, the minimum wage is $15 an hour, yet these companies offer custodians $20 per hour in addition to free meals and other perks.
Compounding the competition is the sheer cost of living in Silicon Valley: it's impossible to purchase a single family home under $1 million within a 30 mile radius of Stanford's campus. Transportation also factors into the challenge. Though public transport is free (due to a traffic mitigation requirement), many employees endure a daily commute of two to three hours.
Because the university tends to appeal to middle-aged workers looking for a sustainable work environment—rather than young, unattached employees who can log longer hours —these factors disturb the equilibrium. After all, how attractive is it for an employee to miss her kids' after-school activity due to a lengthy commute?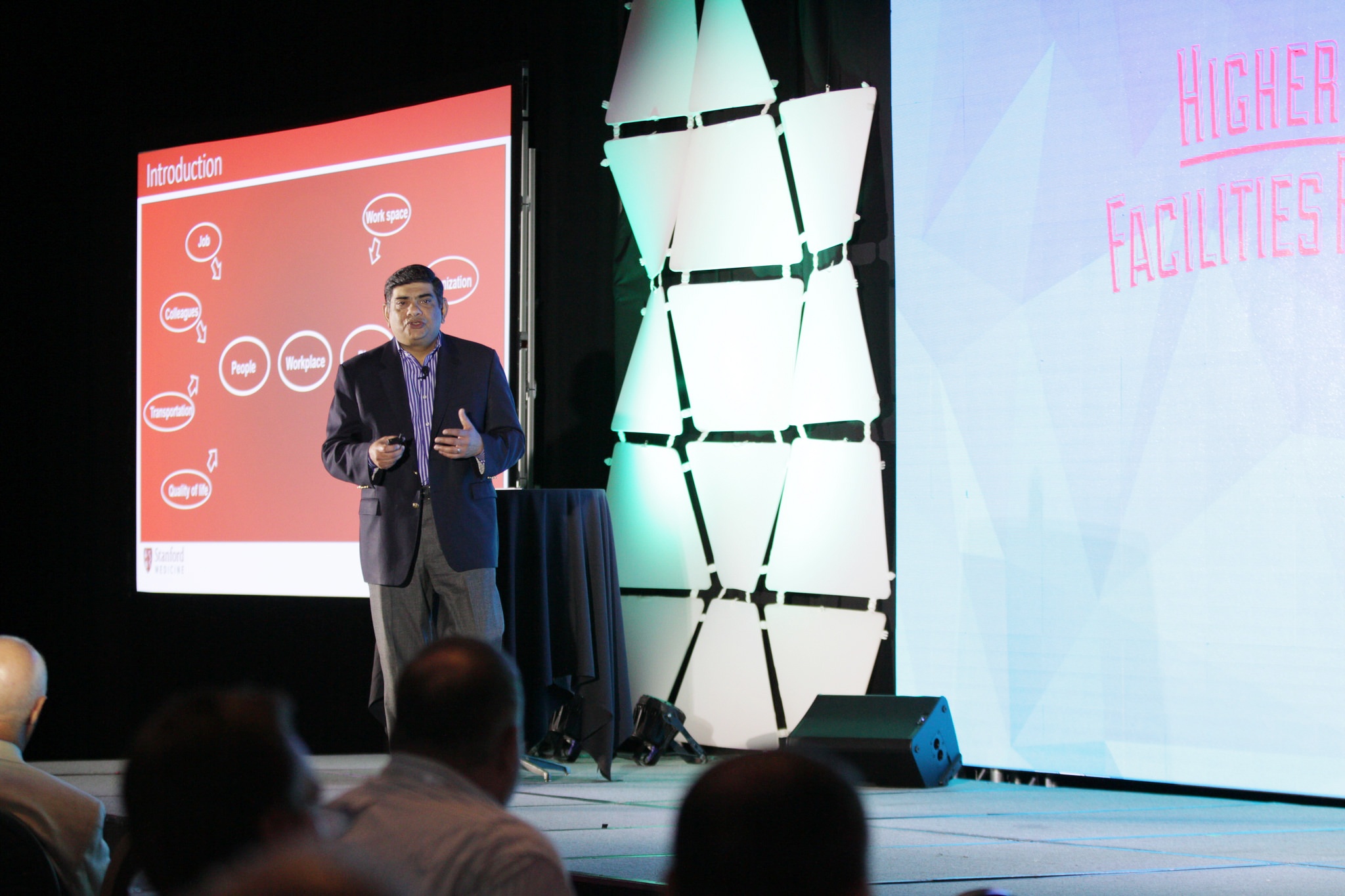 Innovation At Stanford
Dangoria's team isn't just thinking about the evolution of the workplace—they're actively planning for the future with two new projects. The Center for Academic Medicine and Stanford Redwood City campus are initiatives that offer greater mobility and flexibility for staff, with a focus on ergonomics, streamlined technology platforms, and enhanced amenities.
Center for Academic Medicine (CAM):
The construction and design of CAM, slated to open in winter 2019, is focused on housing clinical faculty. With so many hours spent on campus immersed in both academic and medical activities, Dangoria's team is striving to make employees' lives as easy as possible with amenity-rich options. This includes:
A cafe with hours that are longer than the norm (6 am to 7 pm)

A workout facility with showers

Concierge services

Convenient parking under the building

An adjacent daycare center

Couches for napping

A tech 'Genius' bar with free IT help

Abundant community spaces for peer-to-peer interaction
Stanford Redwood City
For the first time ever, the university is designing a new campus exclusively for staff, located seven miles away in Redwood City. By moving 2,400 employees (with no expectation of travel between the main campus and new one), Stanford is creating capacity on campus for growth. The first occupants will move into the building in spring 2019, with a promise of seamless technology and new remote work standards.
"Five years from now, I don't believe it will just be "Redwood City" but Reno, Austin, Portland, and beyond. That's our next step in workplace evolution--not to have multiple campuses, but work sites in places people can afford to live," Dangoria said.
Conclusion...
Dangoria wrapped up his talk by offering the following questions and action items for higher ed facilities leaders:
Do you think about the nexus of people and place?
Are we headed toward a fundamentally different future?
Do staff and faculty share space on an equal footing?
Understand and accept the challenges.
Furniture vendors design for the masses; make sure you're not swayed by 'design du jour' and be true about your requirements.
Assess your needs for five years from now, project ten years ahead.
---
For more on innovations in higher ed facilities, join us at HEFF 2019, taking place April 7-9 in Hollywood, FL.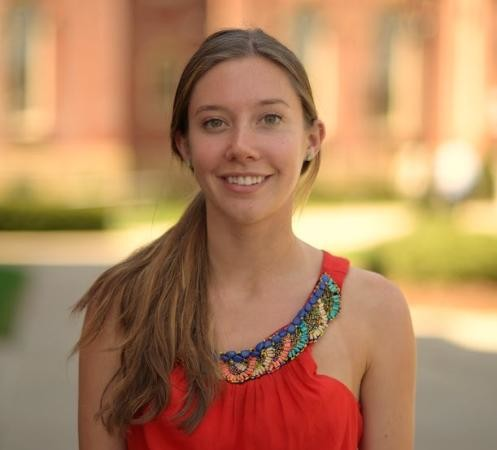 Posted by
Hannah Chenoweth is a writer for influence group. Passionate about collaborating with thought leaders in real estate, design, construction & facilities management.
Join us at HEFF!
An interactive retreat for facilities leaders at the nation's top colleges and universities.
Nov 10-12, 2024 | Tempe, AZ
Learn More