Higher Education facilities leaders are up against an unprecedented set of challenges, fueled by aging buildings, rising backlogs of deferred maintenance, and a decade-long trend of disinvestment (And who can forget this cheery Washington Post article predicting a big enrollment dip in 2026?). Despite limited resources, facilities leaders are pressured to deliver a high-tech, seamless campus experience on par with rising student expectations.
At the 2019 Higher Ed Facilities Forum, nothing was off the table when it came to discussing the biggest challenges of the day. Pete Strazdas, Associate Vice President of Facilities Management at Western Michigan University, did a masterful job facilitating an interactive discussion, drawing insights from the approximate 100 facilities leaders in the room. Joining Pete to shape and provoke the discussion were:
Dan Bollman, Vice President, Infrastructure Planning & Facilities at Michigan State University
Don Guckert, Associate Vice President, Facilities Management at the University of Iowa
Donald Moore, Vice President, Real Estate & Facilities at Drexel University
The fast-moving discussion illuminated the fact that facilities leaders aren't letting a good crisis go to waste. Across the nation, FM administrators are propelling their institutions forward with innovative and disruptive approaches to the industry's greatest challenges.
Recruiting + Retaining Future Leaders
Significant staffing shortages in the facilities industry was the first topic up for discussion. As Baby Boomers gear up for retirement, the need to groom the next generation of leaders grows stronger by the day.
According to Bollman, the traditional job description for facilities managers has broadened considerably; "much more is being asked of facilities leaders today than 20 years ago. There's a real mounting skills gap."
At Michigan State, Bollman is tackling the problem in-house with a commitment to internal leadership development—and is already seeing big dividends. His team curated a valuable assessment to identify leaders while analyzing their skills and developing a work plan intended to propel them forward.
"When you think about leadership, 70% of the skills are experiential and learned on the job. 20% comes from relationships with mentors and coaches and 10% is formal training. We're really honing that 70% and trying to identify opportunities for our up and coming leaders so they can grow and advance in the field," said Bollman.
Moore and Guckert agreed that the profile of tomorrow's facilities leadership is evolving, with a heavy emphasis on a broader set of soft skills.
"In addition to soft skills, incoming facilities leaders must understand the importance of being business leaders. Being aligned with business and a broader view of the institution is essential to our success," said Moore.
"Being aligned with business and a broader view of the institution is essential to our success"
Shane Conklin, Associate Vice Chancellor for Facilities & Campus Services at UMass Amherst, asserts that proper on-boarding is a crucial aspect of employee retention. When new staff members join their facilities team, a supervisor welcomes them to the campus, shares the values of the institution, department and articulates their strategy. They also offer continuous training, a career ladder program, and an apprenticeship program for trades to broaden their skills.
"For custodians in particular, it can be a thankless job with a high turnover rate," shared Conklin. "There are plenty of opportunities across the campus to help employees feel valued and committed; it just takes going the extra mile."
Tom Satterly, Associate Vice President for Facilities Management at Colorado State University, advocated the value of investing in your human capital. His team translates all communications into Spanish, from newsletters to benefits information, accommodating employees with different proficiency levels of English. Additionally, interpreters are utilized for performance evaluations to ensure employees fully understand expectations as well as the opportunities available to them.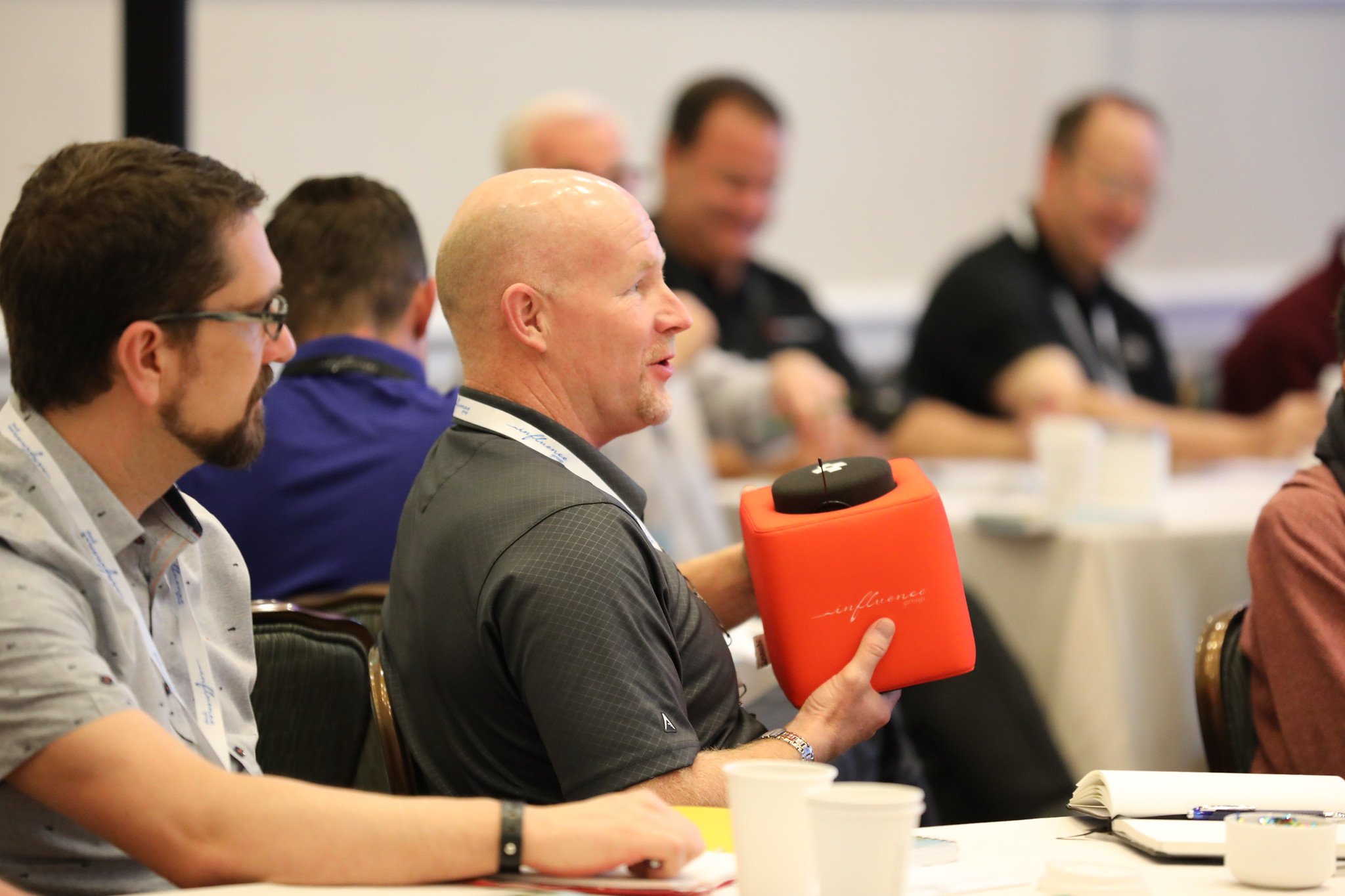 Deferred Maintenance
Amid the session, the group's opinion was unanimous on deferred maintenance: It's an unsexy topic, and everyone is tired of hearing about it. The solution? Many facilities leaders are doing away with the term entirely in an effort to reframe the issue, though that approach appears individualized to each university.
At Drexel, Moore's team has rebranded deferred maintenance to "ongoing maintenance."
"Deferred maintenance casts a shadow over an entire institution when it comes to aging facilities, but sometimes you have to change the definition or the problem to something you can solve," said Moore.
According to Moore, it's critically important for facilities leaders to keep a keen eye on the overarching finances of their institution—but that's not all.
" Sometimes you have to change the definition or the problem to something you can solve "
"It's up to facilities leaders to find the way that your role influences the deployment of that capital," shared Moore. "It's essential to assess the university's overall finances, get a seat at the table, and then present a clearly defined plan on how you're going to make an investment to benefit the university as a whole."
Michigan State is also trying to flip deferred maintenance on its head, shared Bollman.
"Historically, in facilities, we think in a culture of limitations and funding shortfalls. My team is trying to think about what the opportunity is instead," said Bollman. "We're entrusted with a chunk of money to do X. It's never going to be enough to maintain everything, but it's a glass half-full approach. If we can take those resources entrusted to us and make sure its aligned with the university's mission, we see what we can achieve, rather than what we can't get done."
Moore highlighted the importance of aiming deferred maintenance dollars at projects that those outside the facilities world can actually notice and benefit from.
"Most of the work we brand as deferred maintenance happens behind the walls," he said. "Capture some of those dollars for things that staff, students, and other departments can see touch, feel, and be proud of to garner more support from the institution."
According to Guckert, facilities leaders are also involved in managing institutional risk on our campus, without often realizing it.
"We see what we can achieve, rather than what we can't get done"
"When you're funding campus facilities, you're funding the management of risk," he said. "If we think about deferred maintenance and the condition of our plant, we are managing a risk of business continuity.When you pull the administration into risk tolerance and owning these issues that we take care of, you start to garner some attention and a shared investment in the risk decision."
Bruce Nevel, Associate Vice President of Facilities Development & Management at Arizona State University, shared that his team recently completed their third version of an energy saving performance contract (ESPC), a deviation from the typical approach.
"Typically, ESPCs target utility savings, and capital is used from these savings to cover 'easy' maintenance, like changing light bulbs. This year, we wrote into the RFP that a certain amount of deferred maintenance must be identified that actually targets mechanical or MEP systems," said Nevel. "In the end, no money is actually coming from the university, but you're getting more than just low-hanging fruit from those utility savings."
Getting A Seat At The Table
It's high time for facilities leaders to get a seat at the table and help shape the vision of their university. According to Guckert, earning a seat at the table begins with being viewed as contributors and a relevant asset.
"Facilities leaders tend to want to do our work quietly for the good of our institution. However, the responsibility of communicating our value rests with us," said Guckert.
Highlighting the "WHY" behind what you do is a crucial way of demonstrating this value ("if we don't, no one will"). For 25 years, Guckert has sent out a weekly briefing of 8-10 projects underway, and the impact these projects will have on the university.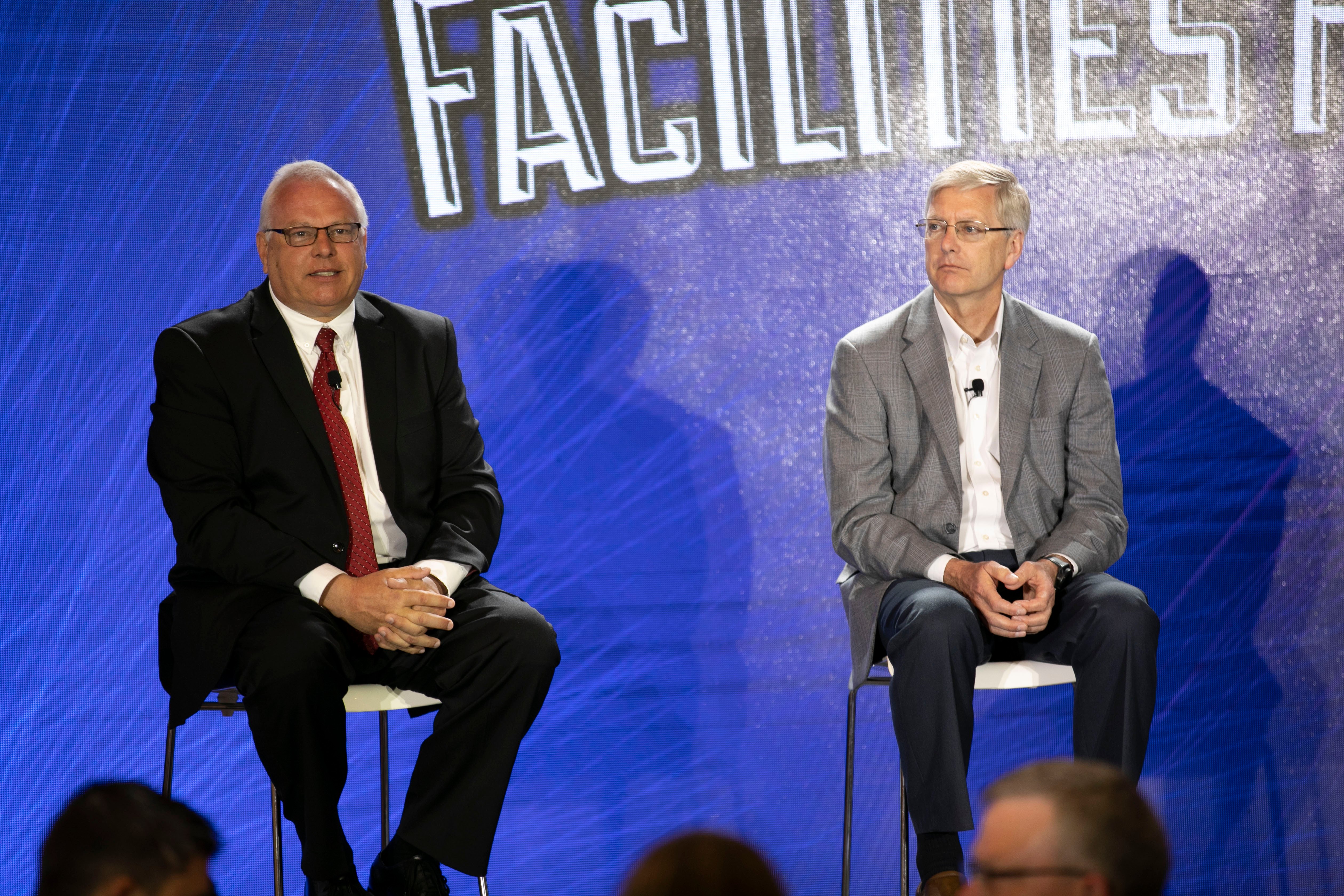 Pete Strazdas and Dan Bollman
"Yes, we maintain buildings and provide power and so on, but the 'WHY' is a little deeper," said Guckert. "For instance, life extension is a 'why.' With building renewal, we're extending the life of an asset by maintaining it well."
Guckert also believes it's important to bring solutions and a sense of curiosity to the table.
"Our leadership doesn't want to hear about our deferred needs—they want our ideas on how to tackle it," he said. "When you're at that table, talk about things outside of facilities too. Ask about the enterprise, the academic side, and student services. Understanding how all these pieces connect together is part of being an invaluable team player."
Bollman also echoed the importance of having a broad perspective of the institution.
"In facilities, we often sell ourselves short. We tend to have a greater perspective of what's going on at the university globally than many academic partners, but we don't share that," said Bollman. "We have a lot to offer at the table as long as we're curious and willing to ask questions."
Moore believes it's important to frame solutions through "a business approach that benefits the institution and can advance a capital investment or many capital investments," rather than just viewing ideas as the domain of operations and maintenance.
Joyce Topshe, Associate Vice President for Facilities Management at Wesleyan University, took a proactive approach to getting a seat at the table. In her 18 years at Wesleyan, the facilities chief had never once been invited to the president's cabinet...so she became a host herself.
"Our leadership doesn't want to hear about our deferred needs—they want our ideas on how to tackle it"
"I created a facilities committee, and invited the president's cabinet and other operational departments. It started with 12 people, and now I have people clamoring to attend," shared Topshe. "I send out the invites and set the agenda. The former president attended the monthly meetings, and now our current president sends a designee. If you can't get that invite to the table, you can always take matters into your own hands."
Sherwood Wilson, Vice President for Operations at Virginia Tech, believes there is a golden opportunity for facilities leaders to build a relationship with the admissions office.
"Create that golden mile for the admissions team as they bring prospective students and parents on campus, because they're plugged into every table around the university," he said. "If you can build a relationship with the director of admissions and create a partnership that enhances their efforts, it's like an automatic seat to most tables across the campus."
Partnerships On Campus
The conversation on getting a seat at the table paved a natural segue to the next topic: building strategic partnerships.
At Michigan State, Bollman looks at the university as a living lab with endless assets that the academic and research departments can take advantage of. When the engineering division designed a unique design for asphalt and concrete, for instance, Bollman's team embraced it— in turn supporting everyone's goals and building a relationship. "We create value that can't be created by just outsourcing," he said.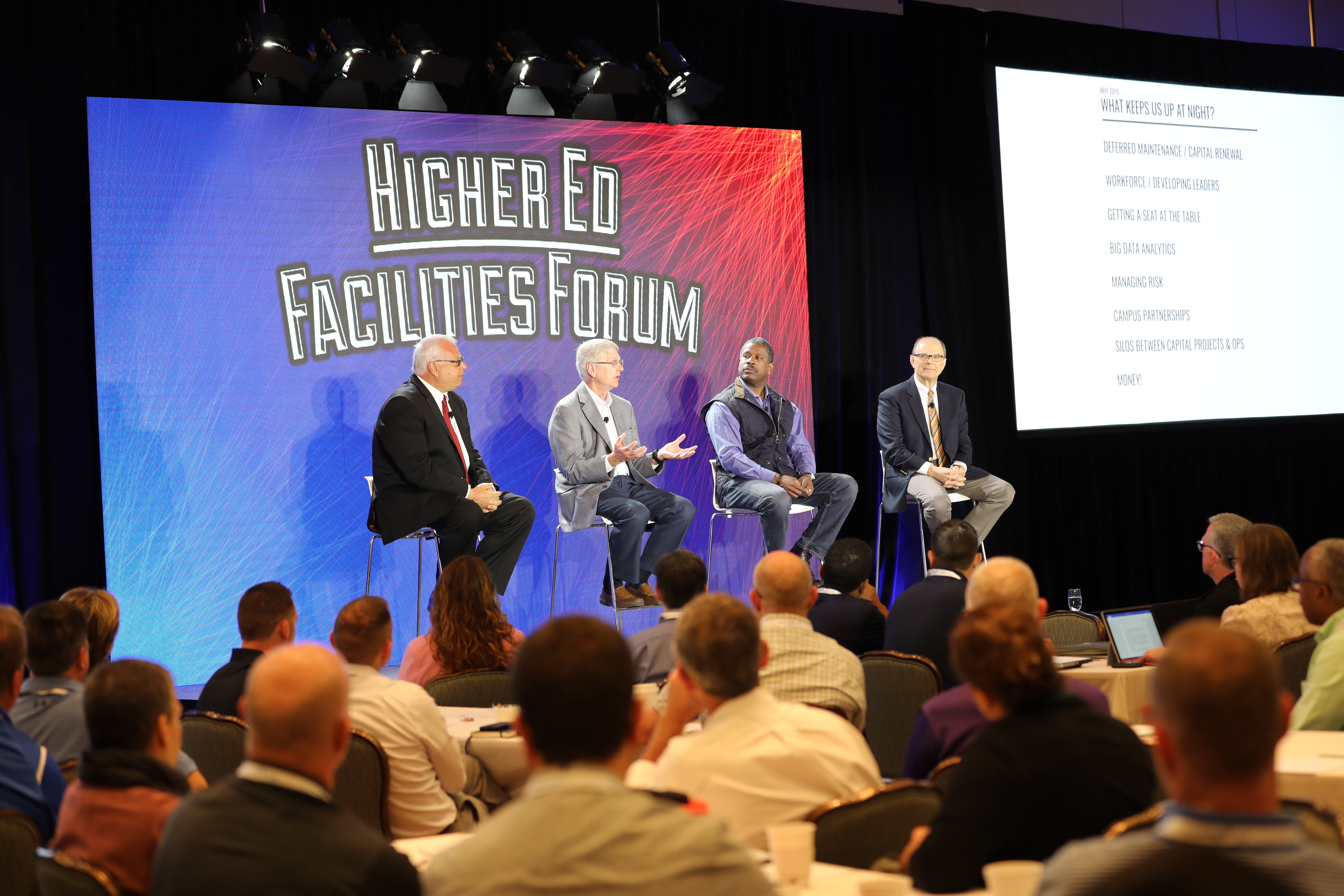 By partnering with the academic side, the facilities department becomes an asset instead of a liability on the balance sheet.
Morgan State University takes a similar approach to strengthening student and faculty partnerships, shared Kim McCalla. Construction sites become living laboratories for student tours and participation; construction managers also hire students as interns.
"We've really tried to make partnerships beneficial for others. Right now, I'm partnering with faculty to help us with our stormwater management requirements for the campus. By engaging in the university mission, facilities leaders can earn greater respect," she shared.
"It's equally important to develop strong teams under you to do those things you're not going to do, so you can focus on vision"
At Wesleyan, Topshe used the "campus as a living lab" approach to remedy an important issue: Students weren't paying respect to physical plant managers or the campus itself. The facilities department created a course taught by plumbers, HVAC mechanics, and a diverse group of team members to foster respect, understanding, and appreciation. "How To Build A House 101" is now offered to non-engineering students who learn how to install heating and plumbing systems, using the campus facility as a classroom.
Don Coffelt, Associate Vice President for Facilities Management and Campus Services at Carnegie Mellon University, believes it's essential for facilities leaders to be seen as "citizens of the university." This requires a personal investment and going above and beyond the duty in your job description, including attendance at athletic games, theater performances, and meetings outside the facilities scope.
"When the time comes for you to need a partner, you'll be seen as a colleague and someone that people are glad to see," shared Coffelt.
Looking Ahead To The Future
After covering so much ground, Strazdas posed a question to the audience: "If we're so busy with all of these pressing needs, how do we plan for the future?"
Moore compared the task ahead to building a plane while it's moving down the runway. Still, he believes the outlook is optimistic for facilities leaders who "utilize all the tools in their toolbox, earn a seat at the table, and listen to others' priorities as true team players."
"You have to address ongoing maintenance concerns while somehow carving out that time to look forward, and that means having conversations across the institution," said Moore. "Often, that vision resides in the hands of the president and the provost, for better or worse, and only shows up once a quarter. Facilities leaders must communicate their role and value in mapping out a strategy to accomplish the university's vision."
For Guckert, a mentor's advice to "Decide what you're not going to do" still rings true years later.
"This provides crucial free time to do that strategic work. It's equally important to develop strong teams under you to do those things you're not going to do, so you can focus on vision," said Guckert.
Bollman shared that his team meets quarterly to talk about strategy and scenario planning.
"We ask questions like, 'What is changing technology going do to our workforce? What is climate change going to do to our energy response? How is the changing face of higher ed going to affect facilities? Our approaches to these scenarios aren't going to be 100% correct, but they get you in that thought process. Universities are going to be very different in five to ten years, and we need to be ready for that."
---
Interested in collaborating with the sharpest minds in higher ed facilities? Well, join us at HEFF 2020 taking place April 5-7 in Pasadena, CA.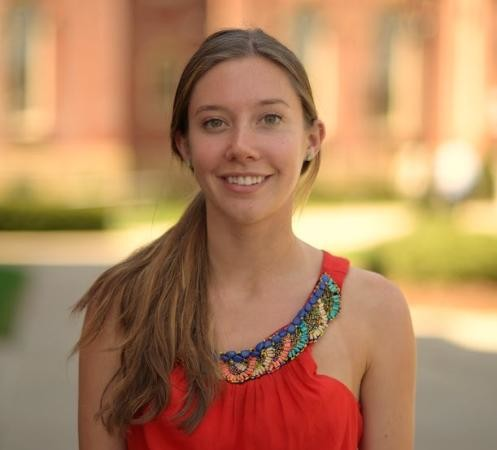 Posted by
Hannah Chenoweth is a writer for influence group. Passionate about collaborating with thought leaders in real estate, design, construction & facilities management.
Join us at HEFF!
An interactive retreat for facilities leaders at the nation's top colleges and universities.
Nov 12-14, 2023 | Austin, TX
Learn More