Nina Petty has a motto: "I know what I know, and I know what I don't know." Actually, the Vice Chancellor for Real Estate & Facilities at Tarrant County College District has a few mottos...but we'll get to that later.
We enjoyed a lively conversation with the dynamic Texas native, who was recently recognized for her dedication to the Fort Worth Community with the Susan A. Halsey's Founder's Award. Coming from the corporate real estate world at CB Richard Ellis and RadioShack, Petty arrived on the TCC campus in 2010 with a unique perspective and a deep appreciation for the larger purpose of higher education.
We spoke with Petty about TCC's unique approach to master planning, the important role that failures play in igniting innovation, and why she believes colleges need to be "student-ready" rather than the reverse, and much more...
What was the transition like for you entering to the higher ed world?
I was brought in to oversee our real estate department and act as a "turnaround" agent. We're a 50-year old organization and really needed to update processes that no longer worked for us. It was a strategy of the new Chancellor at that time to bring in private industry-minded people as TCC was building a downtown campus and the project was off the tracks from a cost standpoint.
My transition coming in was like drinking out of a fire hose. I had inherited a $230 million project that already had contracts and construction underway. I was tasked to get cost certainty on this project, which was a challenge.
Fast forward about two years and I was able to successfully close the project, largely by building the right team to do it. Thankfully, the Chancellor trusted me to bring in the right expertise, because I know what I know and I know what I don't know. The board was extremely grateful and I was able to swear to them that there wasn't going to be any more change orders. It was a real "aha" moment for me on how to close a project in a government entity where there's a lot of protocol.
Part of my transition was understanding that in my new role as a public servant, we serve the community--and how that relates to getting things done is very interesting! Coming from a fast-paced, get-it-done-today mindset, I had to transition in my line of thinking. Orchestrating a government entity takes some finesse!
How do you think your experience in the private sector benefits you in your current role?
I had had a 25-year career when I got here, and I was definitely looking for a new challenge. I came in truly wanting to learn about this environment.
My background has been in the service. I spent 14 years at CB Richard Ellis, where I had multiple clients and there was a lot of needs analysis, then I went to work with Radio Shack. Coming to TCC, I had to step back, pause, and learn about higher ed. My previous Chancellor encouraged me to be in as many meetings as possible, no matter what the subject was. This really helped me get to the grassroots.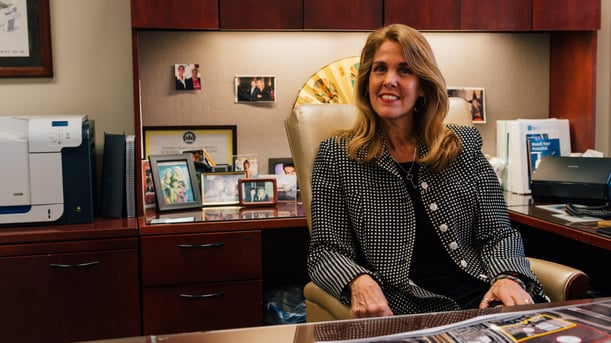 Look, we don't simply want to be a service operation. If all we are is a service operation that doesn't understand our client, we can just be outsourced. The value we bring is grasping why what we do on a daily basis is relevant to the students and faculty, who are the boots on the ground making things happen. It's about creating the right service delivery model that's relevant to them.
It's like the story you've heard about when President Kennedy visited NASA... he stopped the janitor and said, "What do you do here?" That janitor replied, "I'm helping put a man on the moon." When I stop our custodians, maintenance, and landscape crew, I encourage them to understand that they're making the campus beautiful for student success. It's incredible what a team can accomplish when they embrace that and understand how they're contributing to the organization.
What do you enjoy most about working at TCC?
In your career, you reach this point where you want to give back and do something meaningful rather than just making a big buck. As a community college, we have an open door policy where we take everyone who comes through our door, whether its a veteran out of work, someone who is homeless, an 80-year-old, or a child coming here for our summer programs. And that has real meaning.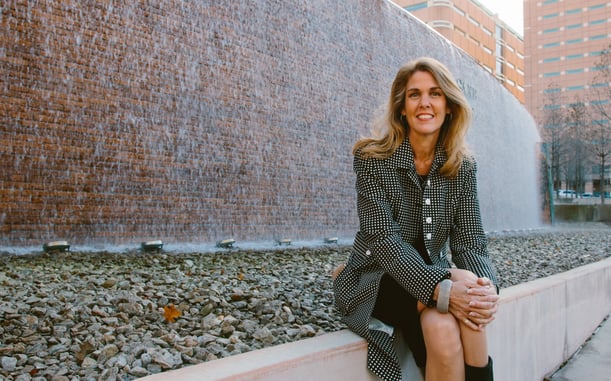 I think community colleges need to do a better job of marketing what an important driver they are to the local economy. TCC is an almost $2 billion operation and generates so much economic development. We are the people who train the folks in the community on all the things that touch everyday people. Unlike a lot of people who go off to universities, the majority of our students stay and work in this community after they get a degree.
TCC is a real hidden gem. We're one of the very few places that's completely debt-free today, and we have a pay-as-you-go budget model. Whether that's going to take us to the next phase of our future, I think we're going to have to look at different financing mechanisms because of how community colleges are funded at the state level, but today, that's pretty amazing to be sitting in a public governmental entity that's debt-free.
What's the greatest challenge you face in your role?
I'd say communication is the number one challenge. We have 100,000 students and we really are one accreditation-- how do you provide a service delivery model to your customer at six different campuses?
It's a challenge for my team to ensure we're getting the message out to all our students and faculty about their environment. We're really focused on improving how we can communicate regarding our planning, design, construction, and operations--and how and where that meets our customers and makes their jobs easier.
We recently sent out a brief email to let employees know that we're sensitive to the flu outbreak this season and that facilities have upped sanitation. The communications team came back saying they'd never received so many thank you responses! Like I always say, it's the pebble in your shoe that gets you; just telling people we're keeping their environment clean meant a lot to people.
What is TCC's approach to master planning?
In 2012, we knew we wanted to diverge from the traditional approach to our master planning effort. We created a unique tool called the Innovation Forum, which is a prioritization model that allowed us to look at real estate projects and ensure we're connecting all the dots on any fairly sizable decision that we make.
It's often the case that we all go off in our "tunnels," and real estate builds a building. All of us have finished a project and said, "Did someone order those microscopes or beakers for the science building?" If someone hasn't connected that dot, an essential function is missing. We ask questions like, How are we going to market this building? Are we financing it properly? Is the right technology in place?
The Innovation Forum has now folded into the second generation of the master plan that we launched last year. It's really a visioning initiative. We're going back to all six campuses and ensuring that we're helping to plan for the vision those campuses have today with the new leadership in place. We listened and then developed eight guiding principles that address the needs of the college. We're making decisions college-wide, not in silos.
How are these principles looking to the future of higher ed?
One example is supporting innovation and transformation when it comes to our libraries. How do libraries need to evolve in this new world of technology and pedagogy?
I don't have all the answers, but if I'm going to provide the right future-ready learning environment, I need to hear from every campus and provide a consistent experience at each one. These principles stemmed from really listening to our campuses--in fact, we just had a meeting with 1,000 faculty members.
"The consensus was that the faculty had never had an experience like that where they were truly listened to."
They rated 10 different environments: classrooms, libraries, and learning commons were set up like stages with mockup situations. It's really a unique experience that brings together a cross-functional group of people, and we're having fun seeing how we can take what we learned to modify our environments going forward.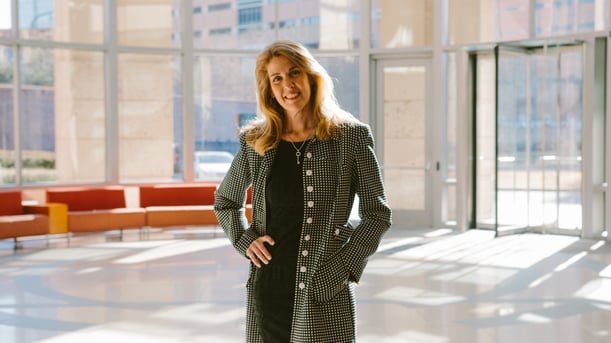 Any upcoming projects/initiatives that you're most excited about?
I'm most excited to see how that master planning effort is going to be incorporated into every project we do. We're not just building a building; it's an all-encompassing thing that touches everybody.
We also have a unique small project under construction where we're connecting two separate facilities through an elevated bridge, like a concourse at an airport. We're creating "sticky space" in this bridge, which are places that encourage students to literally stick around, learn, and collaborate. So it's not just a bridge that connects buildings, but an interactive experience.
Two issues that are top of mind for most institutions are deferred maintenance and space management. How is TCC approaching these challenges?
Deferred maintenance is something every community college has to address. We have $200 million worth of what I call infrastructure projects that we chip away at every year, though we have a proposal in right now with our board about how we can address that a little faster. We have a very organized approach where we've been able to bake it down into something digestible for the board to understand by categorizing projects. Not very sexy or exciting, but there you go!
With state funding down, we all have to face how to do more with less money. Our new Chancellor is challenging us to explore how we can drive revenue in a different way under a more corporate college approach.
And space management is an area that a cross-functional team has been spearheading. Like any community college that's been around for 50 years, we had a thousand start and stop times with scheduling at the different campuses. When you're a student trying to plan your day juggling two jobs and four kids, this is not helpful! So, we're coming up with a standard schedule at all campuses looking at it through the students' eyes, rather than what's convenient for us.
We're in the process of that transition and have a new scheduling software as well-- it's going to be very beneficial in spring 2018. At the end of the day, this helps us manage our space much better.
What is the greatest leadership lesson you've learned in your career?
No one likes to fail. For me, it's important to give my team permission to fail and know their head won't get chopped off. Every failure is an opportunity to pause and think about how you can do things better. I try to remind my staff, "Please don't be afraid to come to me and tell me you dropped the ball. Let's work together to figure out how we can make it better or change the process."
My husband and I have been traveling to Jamaica for years and I love the Jamaican motto-- "No problems, only issues." If you approach life that way, and you're not scared to break something or fall, you're able to learn and innovate.
There's messiness and there's innovation. And you cannot innovate unless something gets messed up--that's why we have washing machines and telephones and every invention that solves a need!
When it comes to hiring new talent, what's the most important non-negotiable trait you look for?
I'm a big proponent that we all bring something different to the table, and I look for people who are opposite of me. Find someone who does things better than you, and team with them so you have experts. Do they complement the team? If you and I think alike, one of us is not needed in the room. I look for humbleness, where they're not embarrassed to admit what they don't know.
When I ask "What are your strengths and weaknesses?" and someone mills around the weaknesses, I'm like, really? No one is completely 100% well-rounded. That's why teams work. If everybody is great at X, your never going to get Y done. X + Y needs to equal Z!
I can honestly tell you that I've been blessed; if that's the one thing I do really well, it's put great teams together to do magnificent things. When I look back at my career, the reason I've been successful has very little to do with me and more with the teams I put together.
What's the best piece of advice you've gotten in your career?
Admit when you make a mistake! Step up, be responsible and accountable for your actions, add value, and do the right thing. My folks instilled in me that if at the end of the day, you can say you added value and did the right thing, you'll be a happy soul.
In an alternate universe, what would your career be?
I actually started my career as a dancer. I had a father who said, as nicely as he could, "If you keep this path up. you'll end up in the backline of some chorus in Vegas." He was probably right, but I do wonder what would have happened if I went the creative route as a singer or a dancer. My dad encouraged me to get a business degree and open a dance studio, but I had an older brother in real estate and went that route.
What are you passionate about outside of work?
My third kid is now in college so I'm an empty nester, and I'd love to say you can have it all, but it doesn't exist. You have to make choices. When you have three kids and a full career at a certain level of the organization, there's not a whole lot of extra time to be a concert pianist, so I'd have to say spending time with my family.
I have a lot of passions... I want to learn languages, love to garden, and I want to do some creative things. We love to boat. But at the end of the day, keeping up with my family would be my answer.
What does the future of higher ed look like to you, 10-15 years out?
Higher ed needs to reinvent itself. With technology and everything that's happening in this world, it's time. I was just at a panel discussion about bitcoin and how the financial world is changing so quickly, and policies and procedures aren't keeping up with that. The world has to change in regard to how we educate our children and get people into jobs, and it's our responsibility.
At the community college level, I think it's about working with corporate America in a partnership way. We're doing that at TCC, and I know others are, but we have to understand the needs of the business community so we can train our students to be hireable. Many people might say, "We want our students college-ready." But our Chancellor will tell you that it's about higher ed becoming student-ready. We have to understand what those students need today. The fact that we have classrooms that are still set up for 100 years ago when you look at all kinds of industries that have evolved should be a wakeup call for everyone.
"The students coming into college now were practically born with a smartphone in their hand."
They communicate and learn differently, and we have to address that out in our environments. From a real estate and facilities standpoint, it's exciting because to be the pioneers and provide the tools, resources, and technology to help the faculty teach a different way.
We have three pillars: practice, technology, and facility (the environment). Those three pillars need to be at the table having the conversation together. No longer can real estate and facilities or academics go off in a silo--the conversation has to be collaborative if we want to support students of the future.
---
Know a noteworthy facilities leader we should profile? Feel free to drop me a line at hchenoweth@influencegrp.com!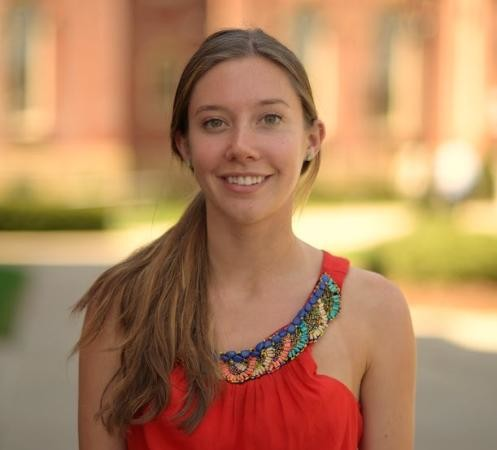 Posted by
Hannah Chenoweth is a writer for influence group. Passionate about collaborating with thought leaders in real estate, design, construction & facilities management.
Join us at HEFF!
An interactive retreat for facilities leaders at the nation's top colleges and universities.
Nov 12-14, 2023 | Austin, TX
Learn More