Higher Ed is currently experiencing change on an unprecedented scale.
Between reduced government support, advancing technology and a push to make access more affordable, the pressure is on for facilities leaders. With real estate typically the single largest asset on a university's balance sheet, facilities organizations must operate leaner than ever before while pursuing excellence.
At the Higher Ed Facilities Forum, Paul Goffin, Director of Estates at the University of Oxford, Bruce Nevel, AVP of Facilities Development & Management at Arizona State University, Dave Riker, AVP of Facilities at the University of Texas at San Antonio, and Don Sundgren, AVP & Chief Facilities Officer at University of Virginia joined forces to discuss these issues on a panel moderated by Pete Strazdas, AVP of Facilities Management at Western Michigan University.
With so many topics to cover in a short period, from sustainability to succession planning, Strazdas did an excellent job of keeping the discussion moving. The fast-paced format included live polls and audience participation, which confirmed one thing: despite uncertainty and changing tides, facilities leaders across the country are anything but staying stagnant.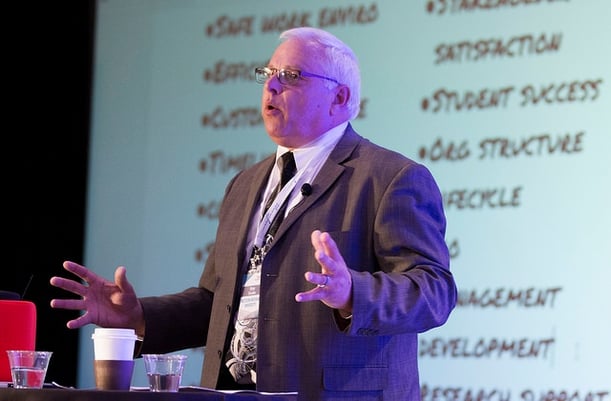 What are the Top Challenges in Higher Ed Today?
Strazdas kicked off the panel by asking the audience about the biggest challenges they face. There was no shortage of answers, including:
Retiring baby boomers + a shortage of skilled labor

Deferred maintenance backlogs

Disinvestment in facilities

Shrinking student enrollment

Space management

Constant competition to have the most cutting-edge facilities
"One would argue we're headed toward the perfect storm in Higher Ed facilities," Strazdas said. "With all the noise, how do we rise above it and find excellence?"
Facilities Development & Leadership
Regardless of institution size, location and demographics, the panel agreed that the need to recruit and retain facilities staff is stronger than ever.
According to Nevel, "It's become so competitive these days with the lack of skilled trade out there that you can't just hire people off the street anymore. It's almost like you have to grow them yourself--it's flip flopped."
Audience members shared some of their strategies for addressing the issue, with AVP of Planning, Project Delivery, Facilities & Operations Pat Jansen sharing University of Alberta's success from hiring graduate student researchers on eight-month co-op terms. "We find these young bright minds bring an energy and a technology basis that raises the game of everyone else."
Dennis Bailey, SVP of Facilities at Florida State University, shared a similar initiative called the Energy Fellow Program, a paid program which engages students and often leads them to full-time entry-level positions at their alma mater.
Outside of engaging students, Rich Sliwoski, AVP for Facilities Management, at Virginia Commonwealth University suggested engaging a less-traditional demographic by sharing VCU's pilot partnership with homeless shelters and city jails.
"We are an urban campus trying to break poverty. These people have the soft skills and we give them technical training to become better citizens," Sliwoski said.
The panel also touched on internal hiring issues. Riker reported that his team eliminated favoritism at UTSA by creating a hiring process where HR is more involved and ultimately picks the top two candidates. They also created a curriculum with HR for supervisors with 16 mandatory courses, acknowledging that many individuals who enter the skilled trades don't expect to be in a leadership role and need training.
Goffin echoed the need for strong leadership skills.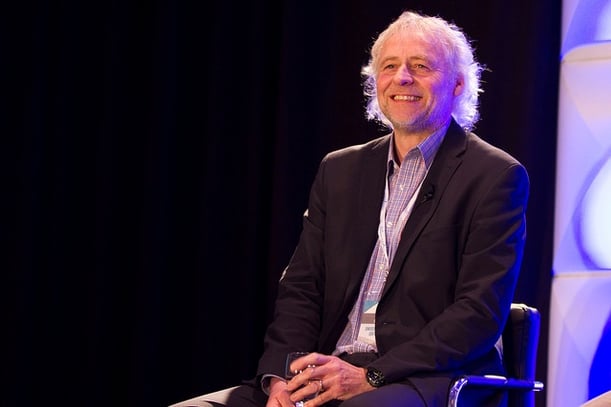 "There's a difference between management and leadership." -Paul Goffin
"Leaders must have a clear understanding of where we're taking our teams--we must understand what service you need to deliver, what training you need to provide, and distill it in your teams."
Goffin said that the UK has experienced the same lack of skilled trades as the US. Because of this challenge, it's "essential to think more cleverly about how we recruit and train people, provide apprenticeships, and even consider whether we need to pay a market supplement for qualified staff."
Customer Service Component
Yet another quick consensus was reached regarding the rising focus on customer service in FM. Nevel kicked off the conversation by first looking outside the industry for wisdom...
"If you go to a high-quality customer service organization, like Marriott, versus a low-quality one like the DMV, you'll see it boils down to giving your workforce the discretionary time to respond and be a customer service agent, so they're not going a million miles an hour constantly executing work orders," he said.
The challenge is two-fold, however. First is the cultural shift: employees must understand the incentive for shifting the paradigm, and organizations need to measure the results. The other part is looking at the execution rates reimbursable customers are charged.
"We build that time in so workers can have that discretion to take extra time for work requests that may come up. We need to build in a process to truly capture that customer service culture," he said.
At UTSA, positive cultural change came about from putting the department through the Dale Carnegie leadership course. "It changed a lot of the culture of 'get in, get out' and sparked a new way of thinking and spending more time working with customers," said Riker.
Shane Conklin, Associate Vice Chancellor of Facilities & Campus Services, shared that UMass Amherst took a digital route of enhancing customer service through the creation of an online catalog of services, while John Cal from Florida International University chimed in that a five-question survey in the last email of a work order has provided valuable feedback.
Sal Chiarelli, Director of Physical Plants at the University of Vermont, cited "revolutionized customer service" from transitioning from traditional shop-centric maintenance to zone maintenance, thanks to direct contact with multi-trade staff and zone managers.
Organizational Structures
With changing FM demands comes the need for organizational change--but navigating the politics involved can be challenging. Agility and flexibility within existing structures is crucial to satisfying evolving customer needs.
Nevel reported the success of a Building Liaison program at ASU, where each building on campus has a volunteer assigned to it. This individual acts as the eyes, ears and touchpoint for communicating issues between facilities and the occupants.
"It has really extended the communication between facilities and the campus," he said.
Bailey echoed the success of a liaison program, and mentioned FSU holds a gathering each semester with door prizes to recognize the efforts of a "sometimes thankless job."
He also shared that FSU has both zone and shop organizations--and the key to success is keeping a single point of contact and responsibility intact for work orders. Zones handle the first level of activity and call in the shop to help out with more complex tasks; the shop acts as a contractor that's called in rather than as a unit working for the university.
Amy Coburn, Director & University Architect at University of New Mexico, brought up the "problem of silo-ization of organizational structure."
"It's crucial for facilities leaders to find "ways to penetrate the silo wall." -Amy Coburn
"We actually put two directors together because the system couldn't find a way to deal with the structure, and we've become a model of cooperative leadership that's really permeated the group," she said.
Sustainability
Sundgren cut to the chase by stating that "the issue with sustainability is affordability: What is the right balance between initial cost & long-term savings?"
Apart from sustainability of the environmental variety, however, Strazdas brings up the fact that the industry of Higher Ed is unsustainable.
Howard Wertheimer, AVP of Capital Planning & Space Management at Georgia Tech, agreed that "Higher Ed is broken in many respects," adding that: "Universities think we're a 24/7 business, and there are some aspects like transportation that might be, but formal teaching is like bankers' hours. We have a 65% vacancy rate. If we were a hotel or restaurant, we'd be out of business and we need to change the paradigm."
"We need to think much more broadly about the business of Higher Ed if we want to make a change." -Howard Wertheimer
Wertheimer also revealed that Georgia Tech is in the process of building the first Living Building Challenge facility in the Southeast. "In every meeting we bring in our operations and maintenance staff. We've toured other living building projects around the country with staff so they understand the unique characteristics."
According to Riker, UTSA regards the issue as "sustainable operations."
"We only measure what's important to us--for example, it's important we get good roads funded. We've told what we need in every area to sustain the campus. That's pursuing excellence--it's not a destination, it's a journey," he said. "If you can answer every question on the APPA excellence awards criteria with a yes, you will have excellent programs."
IoT Technology
Nevel raises an interesting question when it comes to the constant race to upgrade technology:
"When does dumb technology make more sense than smart tech?"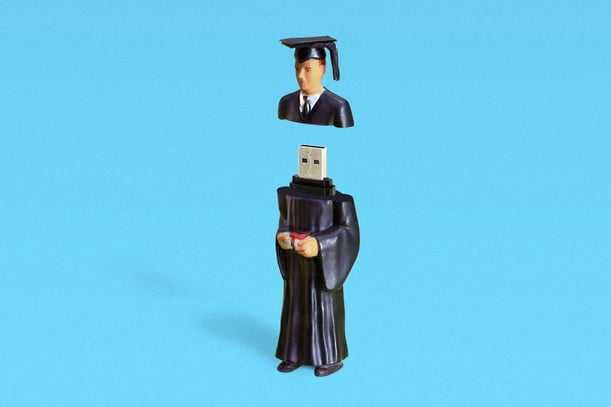 Rather than advocating facilities leaders ignore tech solutions, Nevel calls attention to the importance of vision and strategy.
"There's a disconnect between what's possible from design and construction and the tech that's out there as far as smart sensors and IoT, and the ability to receive and maintain that on the operations side," he said.
"Every week we get bombarded by new technology, and you've got to decide what degree you want to be smart. Start with a holistic vision of what you're able to build and maintain to make sense of all the data."
Succession Planning
With 10,000 Baby Boomers retiring per day, the issue of succession planning is top of mind for many organizations--especially considering the dwindling numbers of young people entering the FM field.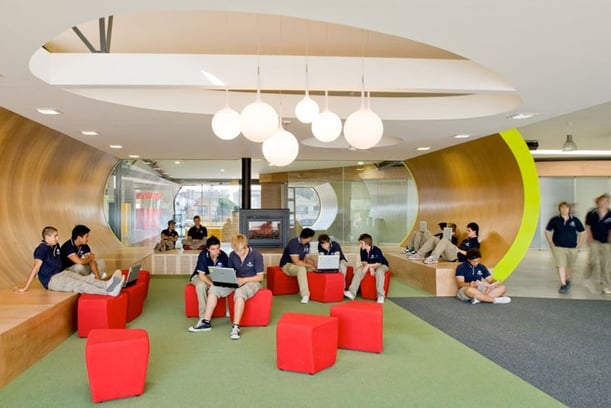 Goffin pointed out that many people stepping into leadership roles have an excellent technical background--but lack training in how to be a leader, which is why ongoing development should be emphasized within each organization.
Sundgren challenged the idea of training people with the idea of specifically asking them to step up for certain roles.
"To me, succession planning means we have a pool of talent on the upswing; but specifically training successors for certain positions may not be the right thinking if we acknowledge that those positions may not be there in a few years," he said.
"Every time there's an opening it's an opportunity for a fresh slate and enables us to see if we can improve the function of that position, whether its consolidation or something else."
---
Video of the full discussion can be watched below!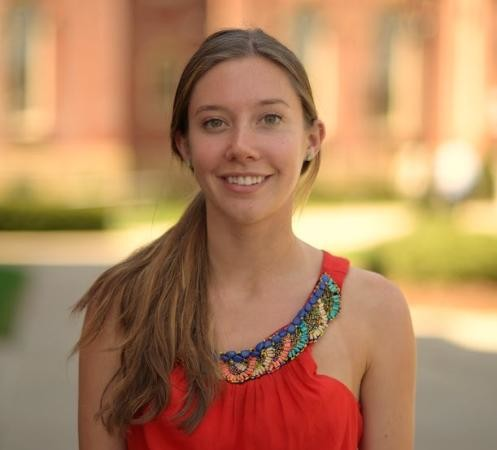 Posted by
Hannah Chenoweth is a writer for influence group. Passionate about collaborating with thought leaders in real estate, design, construction & facilities management.
Join us at HEFF!
An interactive retreat for facilities leaders at the nation's top colleges and universities.
Nov 10-12, 2024 | Tempe, AZ
Learn More