The importance of research in Higher Ed is paramount. Every day, university research leads to innovations that contribute to our communities, drive economic value and enhance our global competitiveness.
But behind every exciting innovation is a facility that supports it--and a lack of cutting-edge facilities is the number one hindrance to unleashing your university's full research potential. Tom Morrison, VP of Capital Planning & Facilities at Indiana University, shared his insights from Indiana University's aggressive campaign to expand and enhance their campus.
Look beyond shiny new buildings
Everyone loves the idea of bright, pretty new spaces, but Morrison stresses the importance of letting the need facilitate the planning--not any distracting bells and whistles. He highlights five crucial factors to consider in guiding the growth of research facilities.
What is the need?
University mission: What are we fundamentally trying to achieve?
Master planning: Are we staying true to the university's core vision while accurately reflecting contemporary realities?
Economic development: How can we leverage the brainpower and research of the university to drive economic development and create high-wage jobs?
Partnerships: How can we create partnerships between city, state, private, and university sectors that we might not have considered a decade ago?
Guiding growth with a Master Plan
In IU's quest to create top-notch research facilities, their Campus Master Plan was born. A well-developed Master Plan allows the university to strategically plan its growth in support of this vision, and is also integral to communicating value to potential donors.
Core themes emerged in creating IU's Master Plan, such as promoting the state's unique natural features and preserving and reinvigorating the historic core of campus. From these themes, a 12-month planning process was undertaken by faculty, staff, students, administrators, and local community leaders. These themes were integral in shaping 5 major projects currently underway, which Morrison shared the progress of--along with the key takeaways from each.
16 Tech District for Bio-Sciences Research & Innovation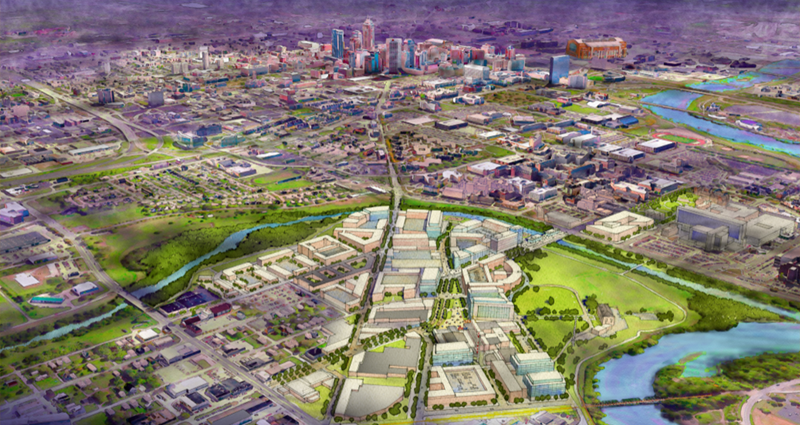 What is it? A new technology and innovation district that will utilize existing buildings and add new developments to ignite innovation, talent and job growth. One key component involves building a bridge (both literally and figuratively) to connect the district. The 60-acre community is purpose-built to attract life science and technology companies around the world, and will also include residential and retail space, along with walking/bike trails.
Key takeaways:
-Researchers want to be close to other researchers. Bringing different property owners together to create an inclusive innovation district will foster one-of-a-kind collaboration.
-Industries that formerly worked in silos are now coming together to grow, and these public-private partnerships can have a transformative effect for the entire state. IU's development, anchored by the $350 million Indiana Biosciences Research Institute, has already attracted about $150 million in funding from state and local companies.
Wishard Hospital Site Redevelopment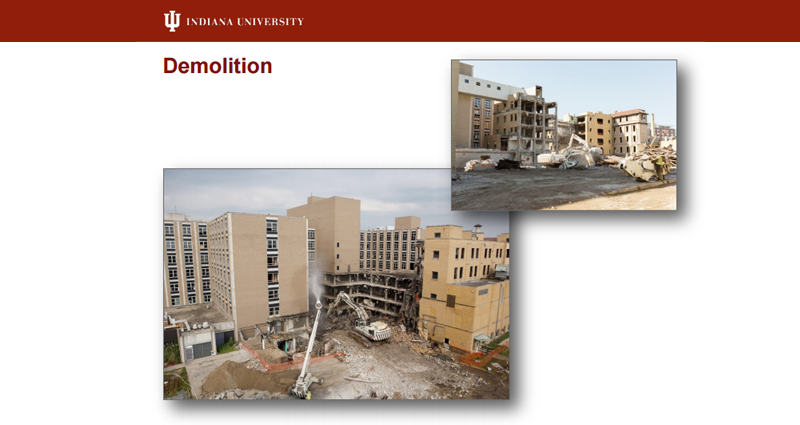 What is it? IU acquired 13 buildings in a land swap to clear room for a new hospital and research spaces to expand its health services program. They'll use some existing Wishard space and replace the more obsolete buildings.
Key takeaways:
-In some cases, it's more cost-effective to demolish obsolete facilities that don't convert easily (in today's quickly advancing healthcare field, many don't). Older non-functional buildings are going away at a rapid pace.
Indiana University Health Academic Center
Indiana University Health Academic Center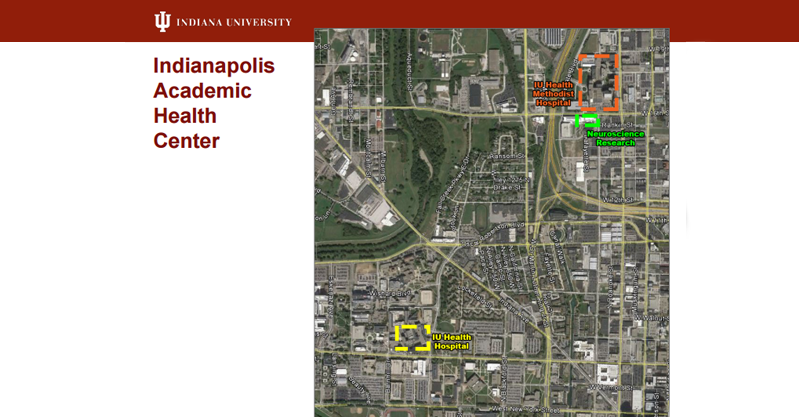 What is it? IU is moving their academic hub to integrate educational spaces into the hospital, adding instructional rooms onto hospital floors instead of keeping them in a separate building. This project will combine IU School of Medicine academic programs, IU Health clinical and hospital care, and targeted research.
LEARN MORE ABOUT IU HEALTH ACADEMIC CENTER
Key takeaways:
-The connection between healthcare and education is an exciting new development. We are moving away from segregated learning spaces and bringing separate silos together so that education in tandem with doctors and nurses occurs.
IU Bloomington Regional Academic Health Center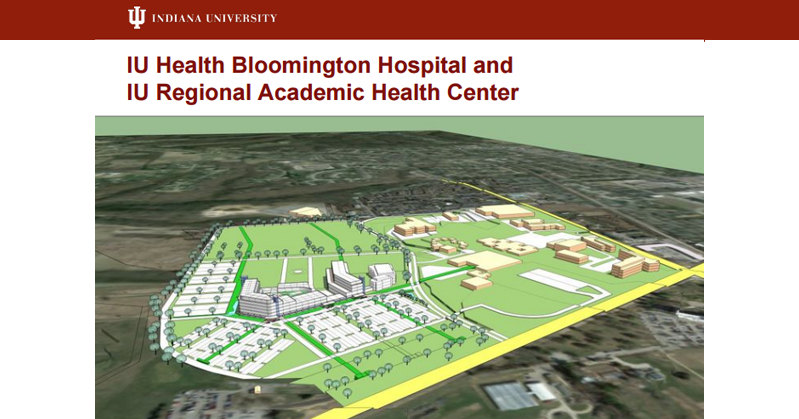 What is it? A $400 million project moving educational spaces from the main campus to hospital to co-locate clinical, educational and research opportunities with IUH Bloomington. This will further create the intersection between new hospital and academic training and improve the educational process and location.
Key takeaways:
-Again, providing more opportunities for collaboration and engagement among clinical, research and medical staff and faculty better serves everyone. This synergism allows students to keep up with increasing demand for practical experience in health-related fields while allowing IU to expand its education programs and research opportunities.
-This project is expected to employ thousands, making a beneficial mark on the community by providing construction positions, patient care and support services.
IU School of Medicine Multi-Institutional Health Science and Research Center- Evansville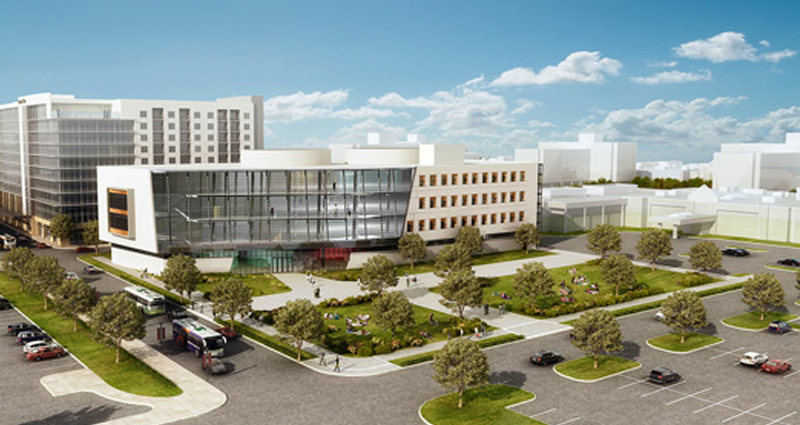 What is it? A $60 million project about to break ground to create a regional multi-institutional health facility in downtown Evansville. Shared by Indiana School of Medicine, University of Southern Indiana, and University of Evansville, this partnership will include instructional and research activities.
LEARN MORE ABOUT THE IU SCHOOL OF MEDICINE PROJECT
Key takeaways:
-Partnerships can successfully stimulate small communities like Evansville, which struggled to economically reinvigorate their downtown. Three institutions joining together to share resources will redevelop a series of blocks, proving that partnerships can often create the greatest value.
To stay up to date on content from the Higher Ed Facilities Forum, click the Follow button>
Want to learn more about IU's investments in research and innovation? Watch Tom Morrison's full presentation from HEFF '16 below: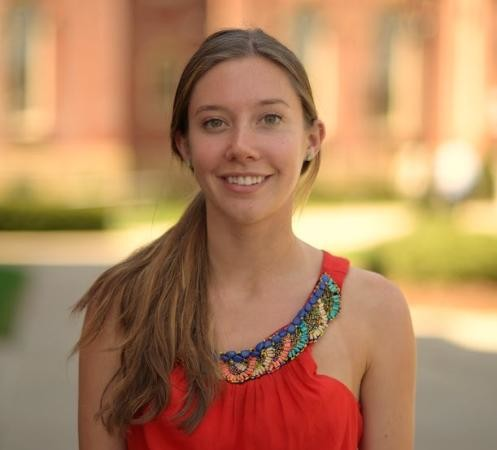 Posted by
Hannah Chenoweth is a writer for influence group. Passionate about collaborating with thought leaders in real estate, design, construction & facilities management.
Join us at HEFF!
An interactive retreat for facilities leaders at the nation's top colleges and universities.
Nov 13-15, 2022 | Palm Springs, CA
Learn More