Former General Electric CEO Jack Welch once famously said, "If the rate of change on the outside exceeds the rate of change on the inside (of your organization), the end is near."
Welch's warning from 2000 still rings true today, as technology accelerates at an unprecedented pace. In higher ed facilities management, disruptive technologies are already transforming how campuses are designed and operated. Organizations that can't keep pace will be consumed by the change, says Donald Guckert, AVP for Facilities Management at the University of Iowa and immediate past president of APPA.
At the Higher Ed Facilities Forum, Guckert explored how big data, IoT, and smart building technology are converging, and how facilities officers can lead the charge into the future by embracing emerging technologies.
IoT in Facilities Management
In facilities management, IoT is an application that's catalyzing serious transformational change. Though lingering questions around security, infrastructure, and unlocking IoT's full potential still exist, the remarkable access to instantaneous, customized and localized information will be a game-changer for facilities' leaders. Guckert shared some of the categories where sensing technology is already in place and where IoT is currently affecting the greatest change in building operations...
1- Energy: smart meters, demand response
2- Lighting: occupancy sensing
3- Fire: functionality checks, detector service
4- 24/7 monitoring: condition monitoring, parking lot utilization
5- Water: smart meters, use, and flow sensing
6- HVAC: fans, variable air volume, air quality
7- Elevators: maintenance, performance
8- Access & security: badge in, cameras, integration perimeter, doors
"The price of sensors dropped through the floor in the past few years, presenting an amazing opportunity. At the University of Iowa, our pilot project for fault detection & diagnostics (FDD) had 23,000 sensing points that we could potentially use, but more importantly, we chose not to use most of them," Guckert shared. "It's essential for facilities leaders to remember that humans are the managers of the Internet of Things...data for the sense of data's sake is pointless. It's up to us to harness this data in a meaningful way."
Ultimately, facilities organizations leveraging IoT effectively will see the greatest benefits in terms of enhanced equipment management, lower operational risk, more effective building commissioning, improved inventory management, strengthened security, reduced energy consumption, and smarter, more efficient programming and design.
The Role of Predictive Analytics
Guckert believes campuses will follow the same trend we're now seeing in the automobile industry, where humans are working with augmented technology in our cars...and where there's much talk about artificial intelligence completely taking over to make safer decisions.
"Humans are the managers of the Internet of Things...data for the sense of data's sake is pointless. It's up to us to harness this data in a meaningful way."
Quoting from Tom Friedman's book Thank You for Being Late, An Optimist's Guide to Thriving in the Age of Accelerations, "Preventative maintenance for cars used to be, 'Change the oil every 6,000 miles, no matter what.' Now, with predictive maintenance, technology tells us nearly the exact moment when a tire, engine, truck battery, or widget needs to be changed," Guckert said. "My new car tells me when to replace oil with much more time and distance than I was originally comfortable with."
The new generation of cars are monitoring each vehicle's condition based on an individual's particular driving habits and other personalized factors. When it comes to facilities management, a similar customized approach will become much more efficient than a scheduled PM program. "We will increasingly be moving away from preventative maintenance schedules towards monitoring and conditioned-based maintenance."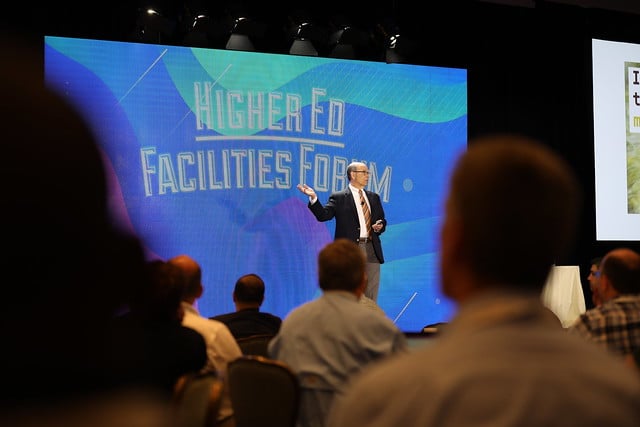 Don Guckert at Higher Ed Facilities Forum'19
"Think of how much waste could be in your PM program, because we're falling into industry-standard norms that are overly conservative for dealing with equipment condition," Guckert said. "Condition-based maintenance pinpoints the point of service needed; a much more customized, risk reduction and resource-efficient way to manage building equipment assets."
Institutional knowledge (i.e. a mechanic picking up on smells, sounds, vibration, etc. that hint at the failure of a mechanical system) will soon be displaced by predictive analytics, and the business case is undeniable: The longer you take to detect failure, the more costly it is to deal with, whether it's the actual cost of the repair or the disruption it causes.
"Predictive maintenance is moving us to a planned maintenance role. Instead of funding repairs, we can harness that money into enabling technology to avoid these repairs," Guckert said. "The future will embrace technology to hold the operations optimization of our facilities constant, so when something starts to drift out of performance (i.e. a fan starts slowing down), we can deal with it immediately. Even better, we can find new opportunities to increase performance, just by the diagnostics."
The Future of Facilities Management
Right now, the applicable mainstream application of big data is fault detection diagnostics—but Guckert believes that machine learning will take innovation to the next level.
As IBM puts it, "Cognitive computing simulates human thought processes using self-learning algorithms that use data mining, pattern recognition, and natural language processing to mimic the way the human brain works," Guckert shared that "IBM's supercomputer Watson can understand the English language and self-learn. When Watson competed on Jeopardy, it studied the collective body of everything in preparation—and beat everybody."
In facilities management, the implications will be nothing short of disruptive.
"Our job isn't to solely keep pace with these technological innovations. We must develop purely unique human traits."
"Machines will understand what the problem is and how to fix it and, with Blockchain, much of this machine intelligence can be collected and reside with the original manufacturer. - Blockchain might provide the level of data security that could move the industry from a paradigm of ownership to one of service. One can imagine building chilled water as a service where the manufacturer is operating the chiller for us and applying optimizations and solutions based on its worldwide history of problems and solutions in the industry. It's a really interesting world ahead."
Guckert closed the discussion by emphasizing that facilities leaders can't afford to just sit back and watch while change happens: It's essential to take a proactive approach in understanding and implementing new technologies.
"Our job isn't to solely keep pace with these technological innovations. We must develop purely unique human traits. As machines get more and more competent, soft skills such as creativity, empathy, curiosity, and collaboration will become more necessary."
---
Interested in collaborating with the sharpest minds in higher ed facilities? Well, join us at HEFF 2020 taking place April 5-7 in Pasadena, CA.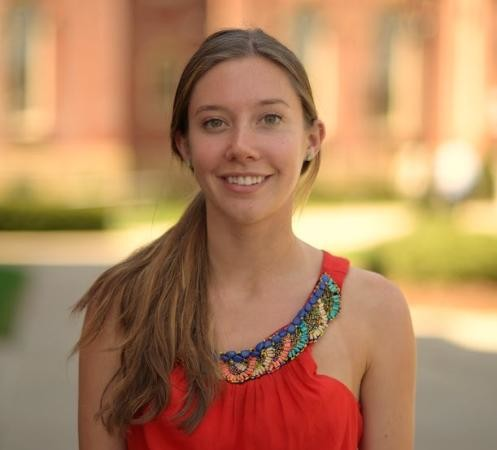 Posted by
Hannah Chenoweth is a writer for influence group. Passionate about collaborating with thought leaders in real estate, design, construction & facilities management.
Join us at HEFF!
An interactive retreat for facilities leaders at the nation's top colleges and universities.
Nov 12-14, 2023 | Austin, TX
Learn More