Active learning is more than just a buzzword in the education world--it's a genuine game changer.
As research reveals that active learning is key to improving academic outcomes and engagement, facilities leaders must ask: How can we design spaces that embrace this practice?
At the Higher Ed Facilities Forum, Dr. Phillip Long, Chief Innovation Officer at UT Austin, shared key guidelines to designing for active learning, as well as the value of full-scale prototyping in both renovation and new building projects.
Why Active Learning Works
It's not difficult to understand why active learning is effective: most of us have suffered through an impossibly stale lecture without gaining an ounce of meaning.
But what exactly is "active learning," and where does the value lie? Many definitions of the term exist, but it boils down to students engaging in the attainment of knowledge. Active learning techniques put a premium on participation over passivity.
With more frequent feedback and increased collaboration with peers and professors, students engage more deeply with the material and build social skills.
In Long's eyes, "this isn't just a passing fad but a major transition."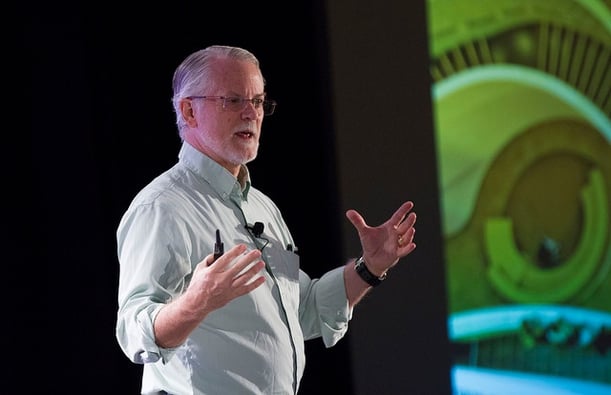 The shift from instructional paradigm to learning paradigm started in 1995, but the notoriously slow-changing nature of Higher Ed means there's still significant room for improvement.
What universities need to support these spaces is a planning framework. Four vital questions emerged from work by the Learning Spaces Collaboratory, as follows:
Active Learning Planning Framework
1. What do we want our learners to become?
2. What kinds of experiences enable that learning?
3. What kinds of learning environments enable such experiences?
4. How do we know?
The Need for Interdisciplinary Skills & A Broad Palette
The problem of learning in today's world is that "we teach in disciplines, but today's problems aren't confined in disciplines." This presents a challenge to make formal learning environments more like professional practice-based learning environments.
"The thing most students complain about is less and less application and tying of their interests to the world around them. They need to see the connection between what they're learning and what opportunities are afforded to them," Long said.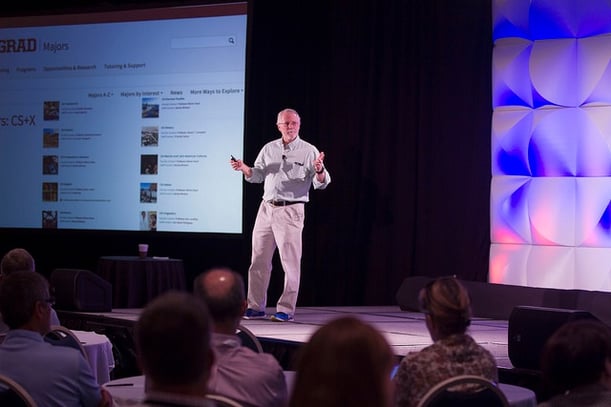 Universities are responding to this need with the creation of interdisciplinarity programs.
UT Austin has created a "Bridging Disciplines" program and a "Bridging Barriers" program for interdisciplinary teams among the faculty. At Stanford, the fastest growing major is a new joint major that integrates computer science and humanities, CS+, with the goal of "creating a new type of engineer and a new humanist."
Along with the need for interdisciplinary skills is the need for a diversity of learning spaces. For faculty to be able to talk about what they want in a new space, Long believes you need a lexicon.
"It's extremely useful to have a palette of spaces to talk about," he said.
Long presented a number of visuals of different learning spaces as a reference and to showcase innovations from universities across the nation. Here are a few key ones:
Personal Labs
Today's students carry around in their backpacks much of the tech they need to do work in class.
Ex: At Louisiana State, students get a kit with equipment and the labs were redesigned around these kits to provide support.
Minimalist spaces
A way of allowing people to create inexpensively from a minimal series of stimuli.
Ex: At the University of Sussex, a black box theater allows a wide variety of contexts for use by simply projecting onto the surface surroundings.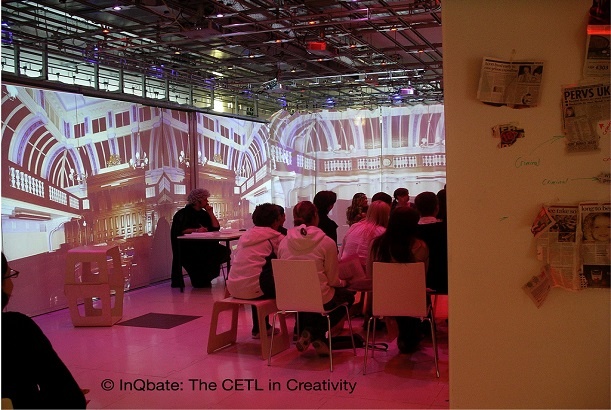 Active Learning Spaces
Working around a table fosters a greater sense of co-participation among students, and being able to write on the table surface is highly helpful.
Team spaces and screens are necessary.
Signage on walls is increasingly popular to communicate messages to students about their learning.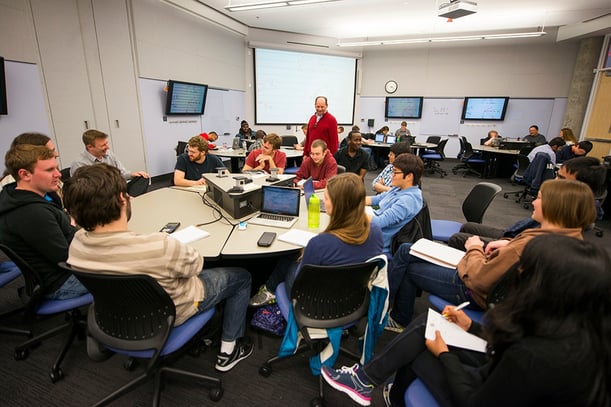 Terraced Active Learning Spaces
The use of "Pac Man tables that pivot in the middle" is rising in popularity. From a teaching perspective, it's a valuable tool because you can walk up and modulate who you are talking to.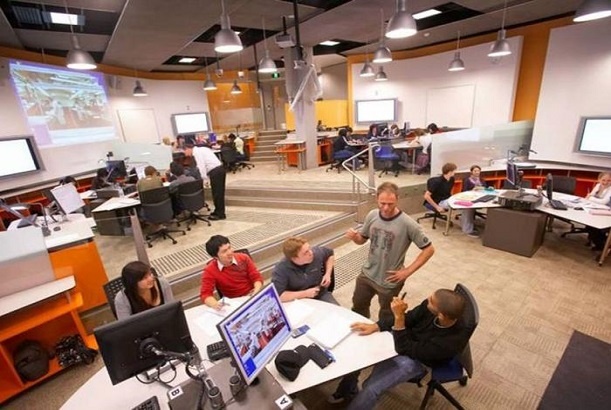 Virtual Learning Spaces
Embracing 3D visual surround and other technologies support active learning for students remotely.
Ex: A live master class between Yale Conservatory and UQ School of Music with an instructor and student was held while the rest of students watched. The only difference for the student? "The teacher didn't slap my hands."
Non-formal learning spaces
Ad hoc study rooms or "club style" study spaces are increasingly important.
The Importance of Prototyping
To add value and save money in renovation and new building projects, Long advocates full-scale prototyping of learning spaces.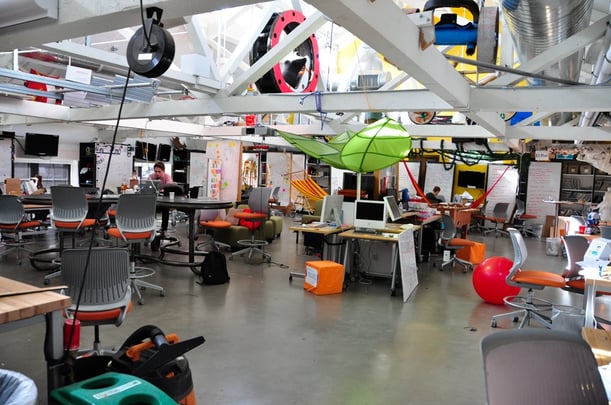 Prototyping can be done in a variety of ways: whether it's the activity itself (literally getting faculty and students in a space and walking them through activities they would be planning to do in class), objects (are tables the right size?), processes (workflow processes or laboratory sequences), or even large systems (a Lexus made out of cardboard).
Regardless of the form it takes, prototyping is a huge opportunity to engage with faculty and give real data on possibilities. In Long's work in Australia, he faced a challenge due to the large size of first-year lectures in Australia (1500-2000 students isn't unusual). The question: how large can we make this active learning space?
The team worked with some creative engineering faculty (Profs. Riedsema & Kavanagh) and set up the room for 67 tables in groups of nine to serve 603 students, two faculty members and four tutors (in bright orange vests to differentiate). 67% of students preferred this large active learning space to a lecture, and attendance through first seven weeks of class averaged over 90%.
At the University of Queensland dental school, prototyping paid off in demonstrating the potential savings of half a million dollars. By testing options for 3D dental surgery software training, huge savings were identified by upgrading the technology to Apple TV boxes and AirParrot (Windows) software.
A Scoring System for Active Learning
Long has been involved in a project that provides a framework for universities to benchmark their environment. The idea is that measurement is immensely helpful in creating change, much like LEED helps schools take action to boost sustainability.
The Learning Space Rating System v2 (LSRS v2) is a tool that scores a classroom's design; the higher the score, the more the design supports active learning practices.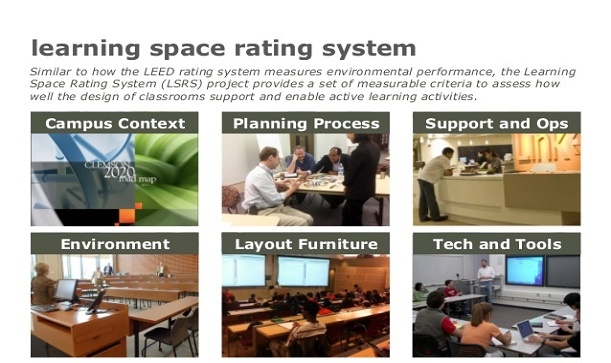 Because there's so much diversity within learning spaces, the LSRS v2 is more an evaluation of a room's capability to support active learning techniques than a specific protocol. There are seven principles behind LSRS, with the seventh being "innovation" to give design teams the opportunity to introduce innovations.
Final Thoughts
The end goal is encouraging buildings and classrooms that cultivate a culture of active inquiry. If active learning is the goal for universities, then learning spaces are the ultimate means to achieving it.
Long wraps up with one of his favorite quotes from researcher John Seely Brown:
"A culture of engaged learning is where recreation becomes an act of re-creation and remix."
"What we're trying to do is change the measure of efficiency from space per people to learning per square foot. That's what matters," Long said.
To hear more from Long's talk at the Higher Ed Facilities Forum, watch the full version here: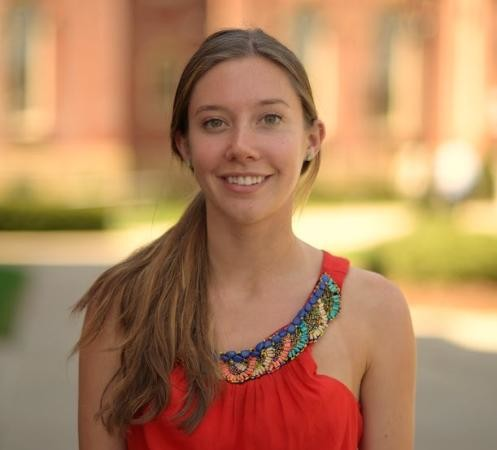 Posted by
Hannah Chenoweth is a writer for influence group. Passionate about collaborating with thought leaders in real estate, design, construction & facilities management.
Join us at HEFF!
An interactive retreat for facilities leaders at the nation's top colleges and universities.
Nov 12-14, 2023 | Austin, TX
Learn More