Physical plants at many public and private institutions are coping with dropping enrollment, tightening budgets and a backlog of buildings due for renovation.
"When I talk to groups like (you), I'm talking to the largest asset managers at their institutions, yet you're not empowered with the same tools (as University Presidents and Boards, for example)," says moderator Jay Pearlman, VP of Marketing for Guilford, CT-based consulting firm Sightlines, which helps educational institutions better manage their facilities investments.
Pearlman and a panel working in the trenches addressed five topics impacting physical plants: Space Utilization, Technical Complexity, Deferred Maintenance, Demolition and Sustainability.
Better Ways to Take Up Space
"For the first time at member institutions, space has surpassed enrollment," says Pearlman.
"As an industry we are building space faster than we are brining students onto campus."
While this trend varies by institution type—student bodies continue to grow faster than space at research institutions—at traditional liberal arts institutions, the typical classroom is occupied only about 55-60% of an academic day, says Pearlman, which means that one typical Sightlines client is wasting about $25 million on empty teaching space annually, with each increased "unit of utilization" putting over $500,000 back!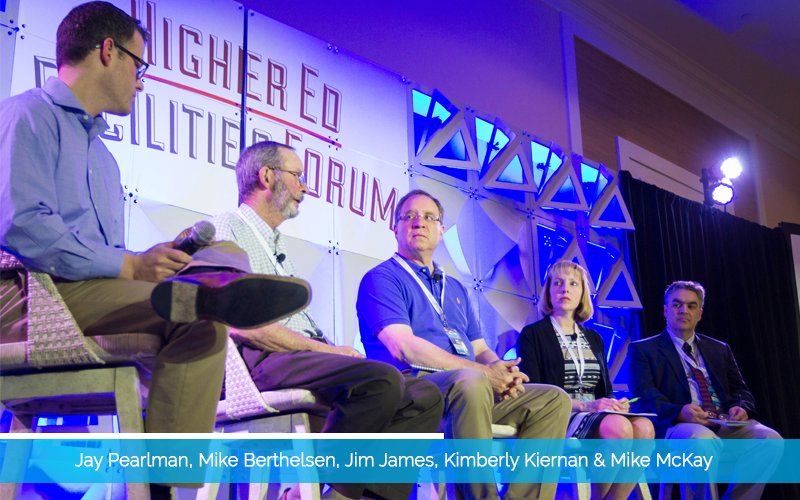 Panelist Jim James, Vice President, Real Estate and Facilities for the University System of Georgia, says the system conducted a yearlong study four years ago that found many examples of classrooms being underused.
"It's been a very effective tool. We've had projects cancelled because of that study, by the campus itself," says James. While some classrooms are highly specialized (he sites nursing), general classroom space can be used from 7AM to late at night.
Mike McKay, Vice President for Facilities at Princeton University, says attitudes at his Ivy League school present other obstacles to maximizing use of classroom space.
"At Princeton, the faculty don't like classes before 10 o'clock in the morning and students don't like classes on Friday. So that really creates a challenge when you're trying to use a smaller amount of space efficiently."
Maximizing use of office space is the major challenge at the University of Minnesota, says Mike Berthelsen, that state school's Associate Vice President, Facilities Management. "The people who are in their offices all the time have smaller spaces, cubicles usually, but those who are never in their offices (tenured faculty) use them as their personal library storage system."
Preferences are different for younger faculty, he adds. "We've built a new clinic building with 'touchdown spaces,' not offices. The assumption is that the next generation would rather have a Starbuck's and a place to sit."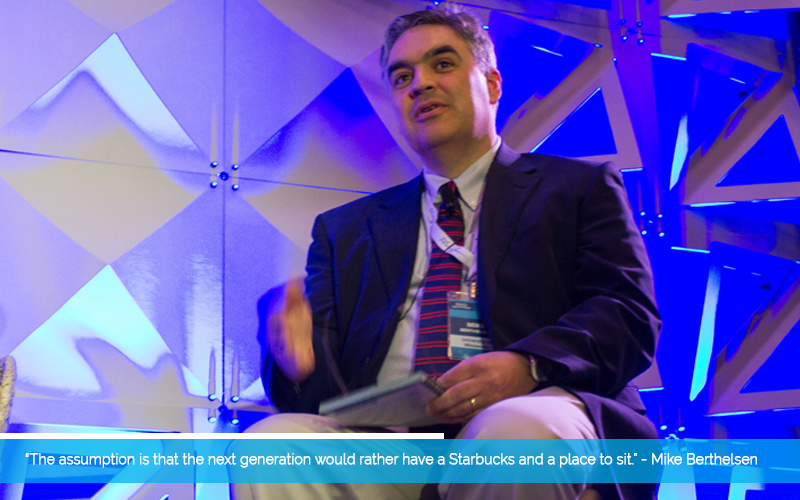 The Challenge of High-tech Buildings
Pearlman emphasizes that many new campus buildings are technically complex. "This means that daily service is more expensive and energy use goes up even when buildings are energy efficient."
Meanwhile, training for physical plant staff is becoming more important.
James points out "One of the best career paths is management of electronic controls. At the University of Alabama in Birmingham, only two people on the maintenance staff could make these (sophisticated) panels work and they earn in the high six figures."
Before the Roof Caves In
A crisis may on the horizon, as buildings from more than one generation require major renovations.
"More than 40% of the space in use today was built in the post-war era. We have a lot of these assets coming due," Pearlman says.
"The second wave of buildings (from the late 80s/early 90s) will be reaching the 25-year bubble when post war buildings hit their 50-year mark. "So a situation where the two groups of spaces will be competing against each other for limited funding. And now there's less money to pull from."
The expense involved is often so daunting that numbers have to be broken down into yearly budget items," says Pearlman. "What we've had success with is that when you're presenting a big, scary number that you're able to break the big scare number into smaller more manageable numbers that tie to some strategic goal that is more institutionally accepted."
"It helps get money approved year after year."
He adds that institutions should have seen this coming, siting a quote from "Before the Roof Caves In," a seminal white paper from 1980. "One side effect of this rapid growth has been the creation of an increasingly large obligation for the future renewal and replacement of physical plant."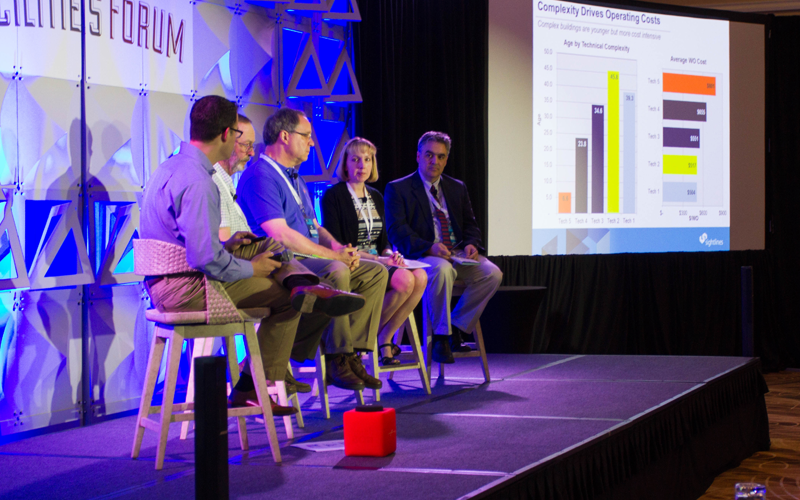 Don't Mess Around With Demolition (Man!)
Pearlman says that more of the institutions (including the University of Maine) are eliminating "non-performing assets," which includes replacing older buildings and, in some cases, tearing them down and leveling the property.
"Now institutions are asking 'do we need all the space we have?'" he says. "Though no president wants to be known as the one who shrank the campus."
Older campuses – like UGa's main campus – face more challenges around demolition, with any building older than 50 years old being labeled 'historic,' says James. "However, we're recommending demolition more and more because empty buildings attract unwanted attention and activities more and more."
He adds, "The funding to tear down a building is hard to come by and it's important to tear them down when you can because otherwise people try to move back into them."
Technology developments have led Princeton to replace research buildings, like a large airfield building that housed a particle accelerator, which was replaced with a more compact data center. "Now we can do all the work on computers," McKay says.
Battle Royale: Sustainability vs. Budgets
The entire panel bemoaned the challenges of sustainability; with Pearlman stressing that for campuses to truly go green depends on alignment between students, faculty and the board. "We have seen emissions go down by about 5% as an industry. However, consumption has gone up because of new building (construction) and because energy is cheap," he adds.
"We have lots of climate policy people on our faculty and our students come prepared to worry about this issue," says McKay.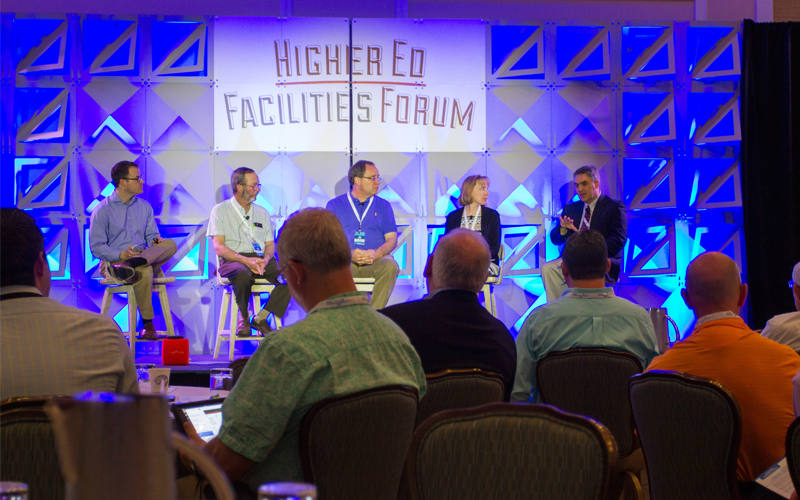 Once the low-hanging fruit has been picked, the hard decisions kick in, says Kimberly Kiernan, Administrative Director, Facilities and Operations - University of Michigan. "A big challenge with sustainability is you can only make so much progress and then it starts costing a lot of money. Our Conversations have been eye-opening."
Students want to save the planet, while boards stress economics, says Berthelsen. So studies end up uncovering that the cheapest way to reduce carbon emissions is almost always "unsexy" stuff like using LED lights.
Want to learn more? Watch the full video below.

Join us at HEFF!
An interactive retreat for facilities leaders at the nation's top colleges and universities.
Nov 10-12, 2024 | Tempe, AZ
Learn More