If you viewed a structure for the first time—with little or no background knowledge—would you be able to guess its age, function and pain points? For many adults, determining age and function might seem fairly simple. But for experienced facilities leaders, a quick walk through the premises in question could tell a story of its own. Finding gaps in form and function are part of the job description—especially in antiquated structures which have been retrofitted to the point of reduced efficiency. There comes a time when massive investment is needed to completely reimagine how a structure can meet the versatile needs of its modern users while creating enviable aesthetics.
Beyond Game-Day: Enhancing the Total Fan Experience
Enter Sun Devil Stadium at Arizona State University. Once the pride of this Tempe-based university, the original 1958 structure started to show its age—in terms of ADA code violations and general disrepair. While still technically a functioning football stadium, the infrastructure surrounding the end zones lacked modern functionality most sports fans had come to expect at other athletic venues.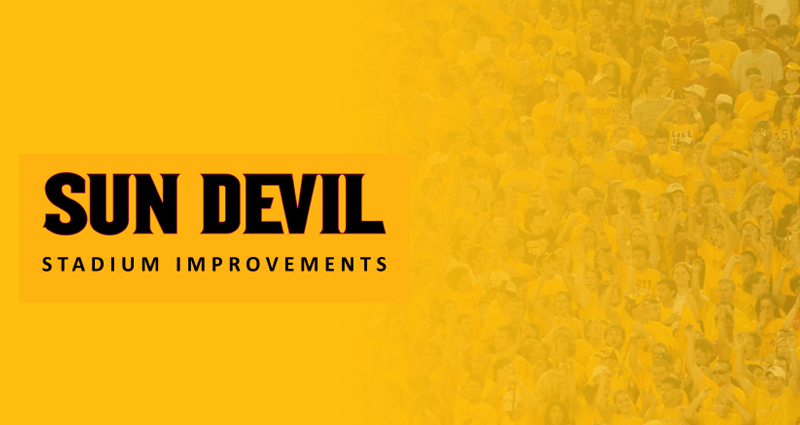 According to Bruce Nevel, Associate Vice President for Facilities Development and Management at Arizona State University Facilities, University, Athletics, there are three types of stakeholders who needed to agree on renovations to the stadium before breaking ground: Facilities Department, University Leadership and the Athletics Department.
After a meeting of those minds, it was decided to improve the entire athletic complex including the stadium and student athlete facilities. Although the investment would be financed from $200M in system revenue bonds and $56M from athletics fundraising, the value would be derived from its versatility—a trend in the higher ed facilities management industry.
To Nevel, the renovated Sun Devil Stadium would be viewed as a "365 stadium," where football was just one of the many ways it could be utilized for sporting and non-sporting events. At the core of the renovation was the notion of improving fan experience for students, alumni, fans and local residents alike to further enhance versatility for all types of visitors.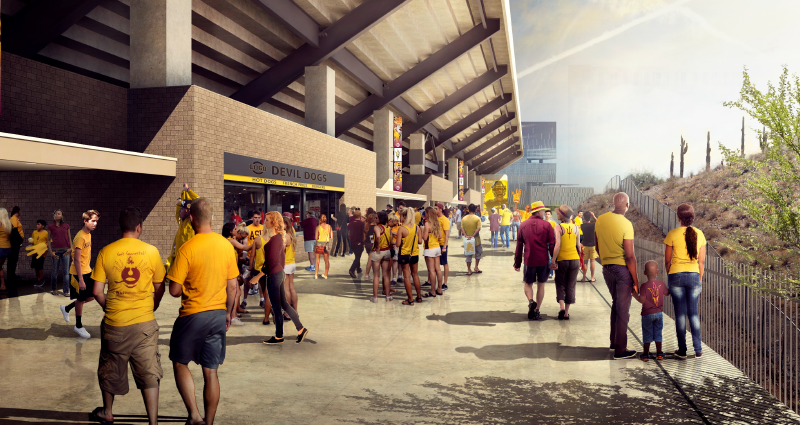 As a direct result, construction efforts led to a 400% increase in gender neutral restrooms and 190% for ADA accessible stalls. To attract and keep visitors, more room was allocated to concession stand vendors and hundreds of wireless access points were added to keep fans connected in our digitally-driven world. When more refreshments, restrooms and Wi-Fi are readily available, smart facilities leaders (and revenue officers) know it leads to longer engagement on-site.
Interestingly enough, this renovation will actually reduce the total number of seats at the stadium once complete. In Nevel's words, there will be better seats with better sightlines to the field particularly on the main concourse level of the structure. Despite the loss in seat count, it can be implied that multiple streams of revenue will likely be tapped when the stadium is eventually viewed as a multipurpose space "for rent."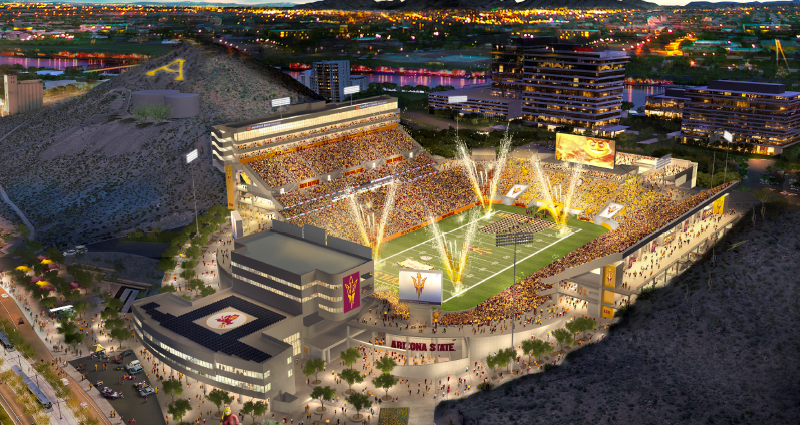 But without strong student athletes, there would be no reason to renovate—which means a brand new student athlete facility will soon contain an auditorium, kitchen, weight rooms, agility fields and more to ensure top-of-the-line facilities are available to Sun Devil student athletes.
To accomplish this aspirational structure, renovation of the stadium complex is taking a phased approach in between football seasons. To ensure milestones are met and games aren't interrupted, facilities leaders are overseeing this gargantuan project. Laborers are on-site 6 days a week for 22 hours. On Sundays, the hours are modified to 12 hours. In all, 140 man-hours are dedicated to this structure per week—an effort split between 200 personell day crews and 70 personell night crews.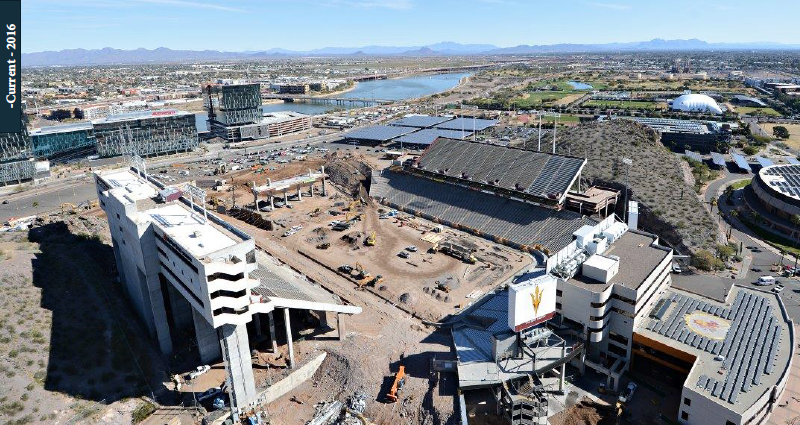 Multipurpose Strategy at Notre Dame
Similar to ASU, Notre Dame is embarking on its own aspirational stadium project as well, the Campus Crossroads Project. Reverend John Jenkins, the President of the university went as far as to call the Crossroads project a combination of academics, athletics and student life together in the stadium every day—not only for home games. In fact, it was the most audacious building project in the school's nearly 200-year-old history. ND hopes to finish in 2017, through a combination of $200M in ticket revenue and $200M from benefactors.
For Doug Marsh, Associate Vice President, Facilities Design and Operations and University Architect at the University of Notre Dame, the vision of the new stadium is to embrace outdoor seating. There will be no enclosed suites or luxury boxes, which add a level of separation between the Fighting Irish and their die-hard fans.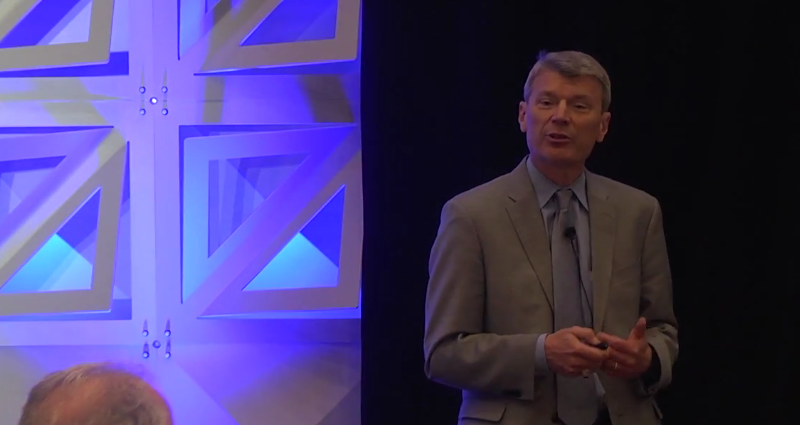 Interestingly enough, ND is also not installing additional seats, but rather making it more comfortable for guests in its proposed 80,000-seat stadium. Again, versatility will play a crucial role in this project with the addition of functional space for all, not just athletes.

The massive Duncan Student Center will be 400,000 sq. ft. and include a student union recreation center, career center, ballroom and areas for game day operations. Facilities leaders will effectively be managing a multipurpose space that caters to students, visitors, recruiters and more—a challenging, but not impossible task.

Moving through the complex, The Music and Sacred Music Building will amass a comparatively smaller 10,000 sq. ft. designed for a 175-seat recital hall. More usage details will likely be released when a donor is identified and construction progresses.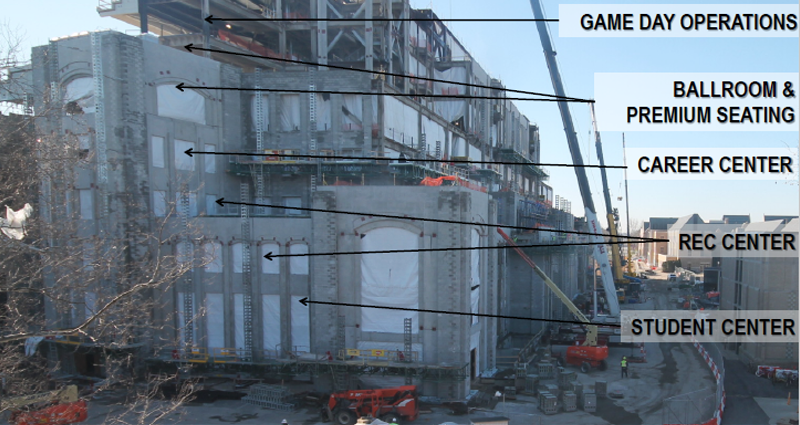 Finally, the Corbett Family Hall will take up an estimated 299,000 sq. ft. and be one of the most integrated structures part of the Crossroads project. The building will house a large classroom with premium seating that can alternatively be used for game day concessions. Imagine the dual functionality that truly makes the best of every square inch. Additionally, ND will consolidate its psychology and anthropology departments in this building with a brand new digital media lab.

The moral of the story is how the new stadium is no longer a destination, but rather united with other important aspects of students' lifestyles—both academically and leisurely.
The Power of Versatility
Although geographically disparate, both ASU and ND are investing in their facilities to ensure a better future optimized toward fan experiences and alternate revenue streams. From the deserts of Tempe, AZ to the plains of Notre Dame, IN, the theme of versatility is the most cost-effective choice for building a facility that is able to be used regularly for members of the community who are only accustomed to game day pride. Moving beyond spirited chants, cold drinks and reliable internet access, these schools are investing in their facilities and setting standards for others to follow suit over the next decade.
---
You can watch Bruce and Doug's full presentations below. Enjoy!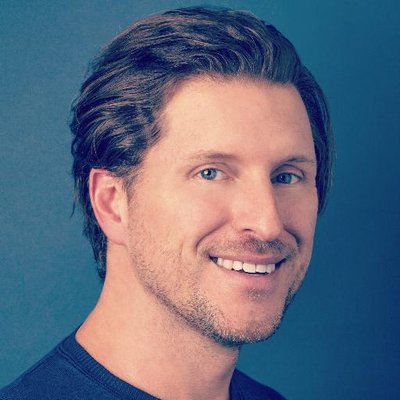 Posted by
Michael P. Owens is Co-Founder + Managing Partner of influence group, a leading producer of content and events in real estate, technology, design and construction.
Join us at HEFF!
An interactive retreat for facilities leaders at the nation's top colleges and universities.
Nov 13-15, 2022 | Palm Springs, CA
Learn More