UC Irvine has doubled in size over two decades, but it's still using the same amount of energy, thanks to a series of deep energy efficiency initiatives.
"And the curve is still going down," said Wendell Brase in his presentation "Deep Energy Efficiency: The Greenest Form of Renewable Energy," at the 2016 Higher Education Facilities Forum.
Brase is Vice Chancellor for Administrative and Business Services at UC Irvine and Co-Chair of the University of California Global Climate Leadership Council. He's also a "numbers guy" and skeptic, which makes his presentation all the more impressive.
"Everything I tell you sounds too good to be true, but I'm going to show you the data," Brase told his audience, before sharing a series of slides and statistics in a presentation with minimal sizzle but a lot of steak.
Going Deep
To add some context, for many of the years of the past few decades, UC Irvine was the fastest growing research university in America. In 2007, the institution decided to pursue "carbon neutrality" and embraced a term that was just becoming popular with efficiency experts: "deep energy efficiency."
"At that time experts had begun to use this term which meant projects that saved more than 50% of energy," Brase said. "I was skeptical."
Brase's initial doubts abated as he spoke with experts in the field. He grew more optimistic, realizing his goals might be more feasible because, among other reasons:
Buildings' energy systems were "designed to waste more energy than we realized." Older, non-dynamic systems operated at fixed volumes/levels/speeds and "worst case" parameters." Energy to pump water/air is highly nonlinear.
Revised Goals
After meeting with the energy efficiency thought leaders, Brase approached his team, demanding that they rearrange their priorities, focusing on energy-retrofit projects where 50% or more was considered an obtainable goal.
"I went back to my energy staff and said, 'You know those proposed projects you have on your list? Take all those objects that save more than 50% and put them on the front burner, and all those projects that save less than 50% are going to go on the back burner,'" he says, adding, "I don't know what they said after I left the room."
With that 50% goal in mind, maximizing energy efficiency in the following areas became a top priority:
Lab building systems
Data centers
Classroom and office buildings
Housing/residence halls
Modular buildings
Interior Illumination
Parking lots and structures
Results: Much Better Than Expected!
Once these ambitious goals were set, UC Irvine has met or exceeded its 50% efficiency targets in several highly significant categories, including:
Classroom and office buildings (50%);
Interior Illumination (60%);
Parking Lots and Structures (79%!);
The jackpot. Laboratory Systems, a huge consumer at a comprehensive research institution: 61%.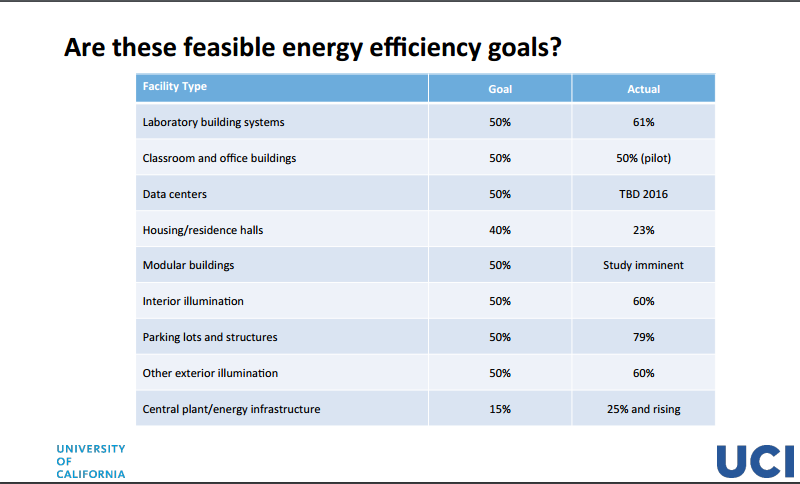 Baby Steps
Achieving these inspiring results began slowly. Initially cautious, Brase said the efficiency initiative began with a pilot program, before expanding campus-wide. "So we would optimize one lab, one classroom, whatever it is, and they scale it campus-wide," he says. "Our (largest) priority was the labs because at a research university, labs are consuming two-thirds of the energy."
One reason his team's improvements worked so well – Irvine's existing systems were "designed to waste more energy than we realized."
As the project developed, everyone realized that many buildings on campus were highly inefficient, designed and built for a time when "People said, 'energy's almost free. Don't worry about it so much,'" Brase explains.
Labs, classrooms and other campus buildings had been built for margin of safety, without concern for wasted energy. "It may sound like I'm throwing engineers under the table, but the truth is until we had digital controls and sensors, there really was a need for this (incredibly high) margin of safety because systems weren't that good at delivering just the right amount of energy."
Smart Buildings, however, changed this dynamic. Rethinking energy efficiency involves "using software and sensors and challenging the design practices," Brase says. "When you do that, 50% (improvement) is possible."
Positive Side Effects
Brase says improved energy efficiency initiatives have led to a number of other positive outcomes, including:
Cleaner air in laboratories and classrooms.
Addressing deferred maintenance in labs because increased energy efficiency meant replacing valves, controls other mechanical and electrical devices that weren't working properly.
Reduced costs for expanding energy infrastructure (e.g., the central plant) as well as lower wear and tear rates for fan motors, etc.
Better information. "There's a whole information layer that gives us real-time data that allows us to find problems in minutes or hours, problems that used to take us years or decades to find."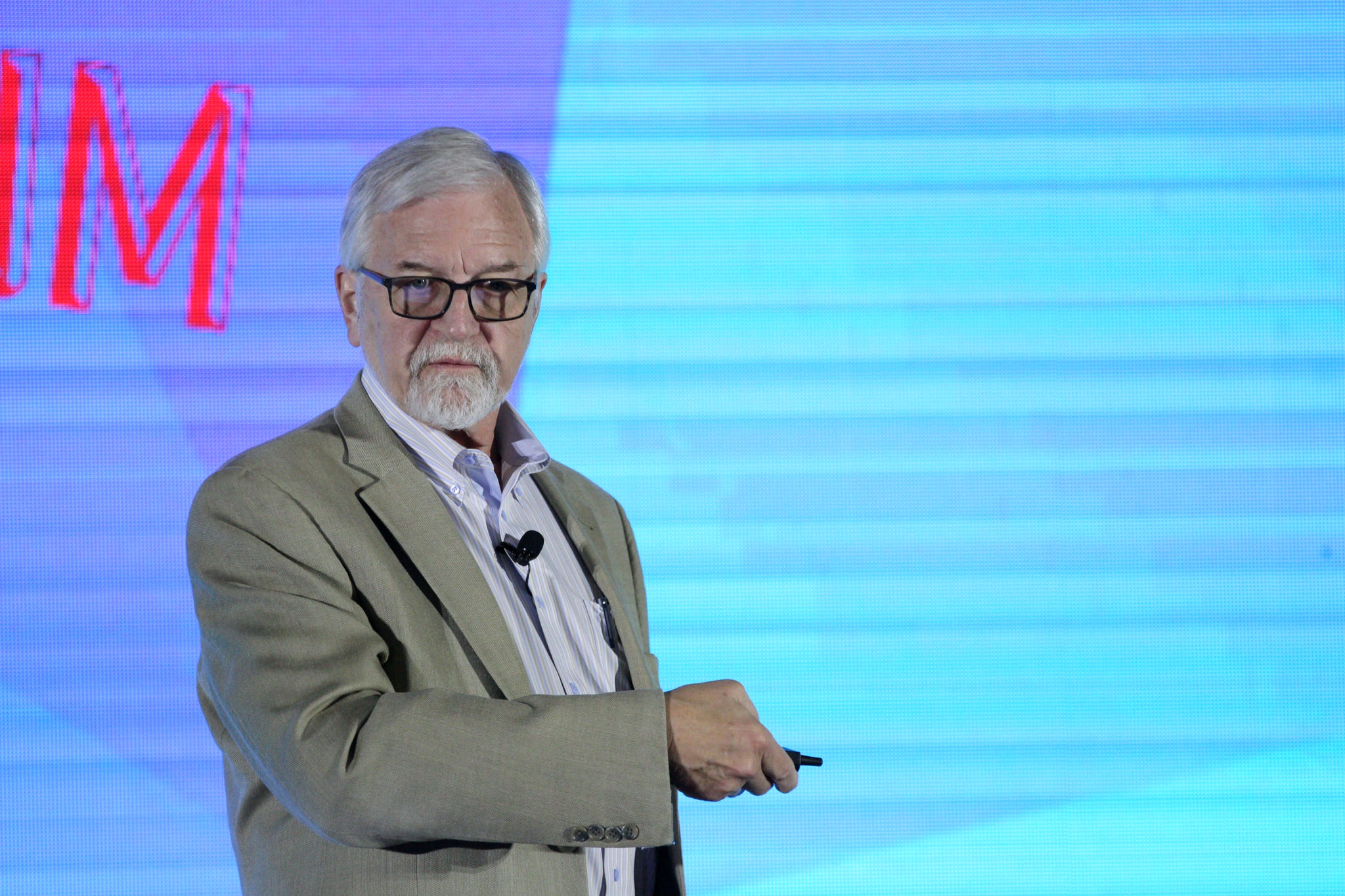 Wendell Brase
Why Isn't Everyone Doing It?
Near the end of his talk, Brase posed and answered the question: "Why Are Some Colleges and Campuses Not Pursing Deep Energy Efficiency?" Reasons included:
Lack of substantial capital to launch improvements.
Unaware of potential savings.
Afraid of risk.
Unaware of co-benefits (like those listed above).
Other priorities, including deferred maintenance issues.
Organizational culture limitations
Room for Improvement
Amid all these better-than-anticipated positive results at UC Irvine, one disappointment stands out: residence halls.
With just 23% improved efficiency, this section of campus fell short of its 40% goal, a failure Brase attributes to energy-ravenous students and "their vampire loads plugged in all over the place. For residence halls the solution may be more behavioral than technical."
He adds and bit of feedback. "And, after we built our smart labs, I received on complaint. They said 'This lab is just too quiet now.'"
More Good News Ahead
Brase says efficiency will continue improving in the coming years because his team hasn't even begun to focus on its "backburner list," which has been deferred until at least 2017.
And, though improvements have cost over $100 million, the initiative is paying for itself, with side benefits providing an extra margin of life-cycle savings. "Overall, the campus's energy per unit of space has been cut in half and it's still going down," he says. "Our campus has doubled in size over the past two decades, but it's using the same amount of energy."
You can watch Wendells' full talk below.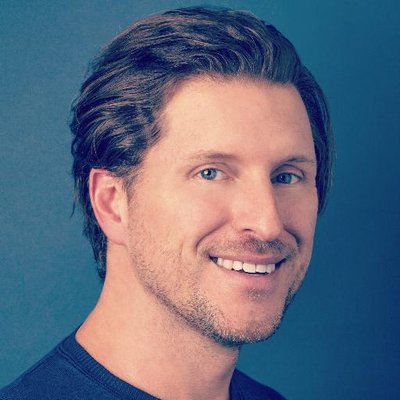 Posted by
Michael P. Owens is Co-Founder + Managing Partner of influence group, a leading producer of content and events in real estate, technology, design and construction.
Join us at HEFF!
An interactive retreat for facilities leaders at the nation's top colleges and universities.
Nov 13-15, 2022 | Palm Springs, CA
Learn More