On July 9, the Higher Ed Facilities Forum held its first-ever virtual meeting for facilities leaders across the country, HEFFv. As campuses prepare for the fall, outlining plans for reopening while constantly reacting to the ever-changing reality of life during COVID, facilities leaders need to collaborate and share their best strategies now more than ever.
This virtual gathering, which included one-on-one meetings and roundtable discussions, allowed them to do just that, as well as some good old-fashioned commiserating: in the first interactive poll of the session, respondents overwhelmingly agreed that they are tired of hearing the terms "new normal" and "unprecedented times." (Aren't we all?)
To kick things off, HEFFv started with a discussion featuring Bruce Nevel, Vice President for Facilities Development and Management at Arizona State University, and Pete Strazdas, Associate Vice President of Facilities Management at Western Michigan University. Lindsay Demczko, Director at Gordian—provider of facility and construction cost data, software, and services—moderated this discussion.
While the industry is in constant flux as the pandemic continuously changes course, Demczko said, the challenges that facilities leaders face are still a lot of the same challenges that existed prior to COVID-19. The pandemic has simply amplified those issues.
"It's putting [deferred maintenance] on the back-burner; it has introduced social distancing, which changes the game when it comes to space utilization; and it has created additional strains on the already limited funding we have," she said. As a result, the most pressing question now is: What are we going to do about it?
Planning for Days, Months, and Years Ahead
The best way through this period, said Demczko, is to approach decisions that facilities leaders are forced to make in the near-term in a way that moves their campuses forward in a productive direction for the long-term. In other words, the decisions being made now should also address future needs and concerns, and not just be reactive to this moment.

Strazdas said that WMU is taking the considerations used in making decisions on how to reopen and incorporating them into their projects that are currently in the design phase—considerations like classroom layout, HVAC design, and technological setups for remote education. He sees this as an opportunity to address issues that were already present, like designing for remote education, which was already a growing trend.
"We're all concerned about remote education because we're bricks and mortar folks, but this is an opportunity to rethink our remote education piece," he said. "We've done a lot with remote services on our campuses and I think we need to [focus on] electronic interactions with our students and enhance that even more."
Nevel said that ASU is looking at every significant decision, particularly with capital investments, with the idea of flexibility built in. While a facility—for example, a research building—might have a primary "first use," they are also now considering the potential second and even third uses of that building, and designing it to be more readily adapted for those as-yet-unknown future uses so it won't require a "radical renovation."
"More and more that's the expectation: that as you're making these planning and design decisions for capital investment, you go into it with the mindset that this is not going to be the final permanent use of this building. There is most likely going to be a second one, so what can we do now to make that easy?" he said.
Flexibility in the Classroom
Flexibility is essential, whether it's looking at years, even decades, into the future or just at next month. As plans are made and then changed, and changed again (and again), facilities need to be extremely flexible. Many institutions are taking a hybrid approach to education this fall, which will include a mix of in-person as well as remote learning, with the potential to shift more heavily to the latter if needed.
"It's a matter of how quickly we pivot with new information so we can match the academic enterprise," Strazdas said.
ASU went through a weeks-long exhaustive planning process to develop a reopening plan, only to see the state of Arizona then have one of the worst spikes in infection rates in the country. They're still planning on reopening with all modalities, including in-person instruction, but leadership could still choose to go fully remote.
With that possibility in mind, Nevel explained, they're building out 900 "Zoom classrooms" with different levels of technology built in, from the highest level Tier A with multiple cameras and microphones to Tier C that is set up with a backpack camera.
"To the best of our ability, we're preparing to support full immersion face-to-face learning with reduced classroom sizes or, if we need to go 100 percent remote, making sure we have that technology built in so we can accommodate either one and we have to have that flexibility," he said.
Nevel said they are also expanding their capacity by building outdoor classrooms in shaded areas on campus equipped with fans, lighting, Wi-Fi, white boards, and furniture.
Both Nevel and Strazdas said the best strategy at the moment for enforcing social distancing inside classrooms is to limit them to 50 percent capacity with rotating in-person and remote teaching along with signage indicating properly distanced seating. Neither have any warehouse space to store excess furniture, so extra chairs are just stacked in the corner of each classroom.
Making Space for Changing Needs
WMU is also encouraging as much of its support staff to work from home as possible, but timing is a factor—of the thousands of office spaces across the WMU campus, knowing which ones will be occupied so they can move on-campus employees around as needed is critical for creating a safe work environment for those who cannot work from home (including the majority of facilities employees).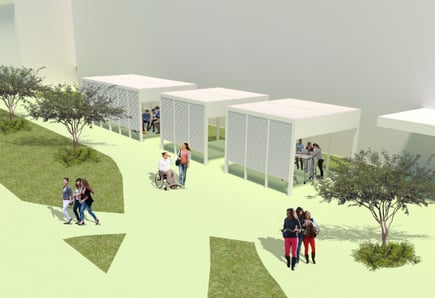 ASU outdoor classroom rendering
"It's a great opportunity to merge, and to conserve, and it's a great opportunity to consider more remote work from home," Strazdas said. "We've got to be flexible, but the challenge is getting the folks across campus to get us the information we need to react as facilities professionals."
Even with the consolidation of space in mind, the vast majority of attendees polled during this session said that they do not plan to reduce their campus's footprint by shuttering or demolishing buildings. However, about 60 percent of respondents reported that they will take advantage of low occupancy buildings to address deferred maintenance issues—another great example of how some are able to create an opportunity out of this challenge, Demczko pointed out.
Although it's not something anyone loves talking about, facilities leaders must also have a plan in place for the inevitable COVID-positive cases, particularly for those students living on campus. In addition to extensive cleaning and sanitization protocols and contact tracing, both WMU and ASU have a reserve of rooms set aside specifically to quarantine those that test positive, where they can continue to attend their classes remotely and have food brought to them. ASU has set aside about 1,000 out of 17,000 available dorm rooms for this, and WMU has reserved one full residence hall.
Managing Workforce Morale
As facilities leaders, the folks who attended this virtual gathering aren't just responsible for the buildings on campus; they're also responsible for their people, many of whom are not able to work from home. They must work to keep the morale of their staff up, which seems to be working (as well as can be expected, anyway)—when polled, 59 percent of attendees said that team morale was at about a four out of five (with five being the highest).
Strazdas and Nevel both believe that communication, even over-communication, is of critical importance to team morale, to keep employees continuously informed and mitigate the spread of rumors. They also agree that it's equally important to listen to their employees and address their needs and concerns, emphasizing that they are a team and they are in it together.
"The role of the leader is to pump up the morale of the workforce, and you have to look for those wins," said Nevel, whether it's a newly LEED Certified Platinum building on campus or the grounds looking the best they've ever looked. "Those are the kind of cheerleading things that we need to share."
Strazdas agreed. "I encourage all of you to look at getting through this in a very positive way," he said. "We as leaders need to encourage and reinforce the good things we're doing together."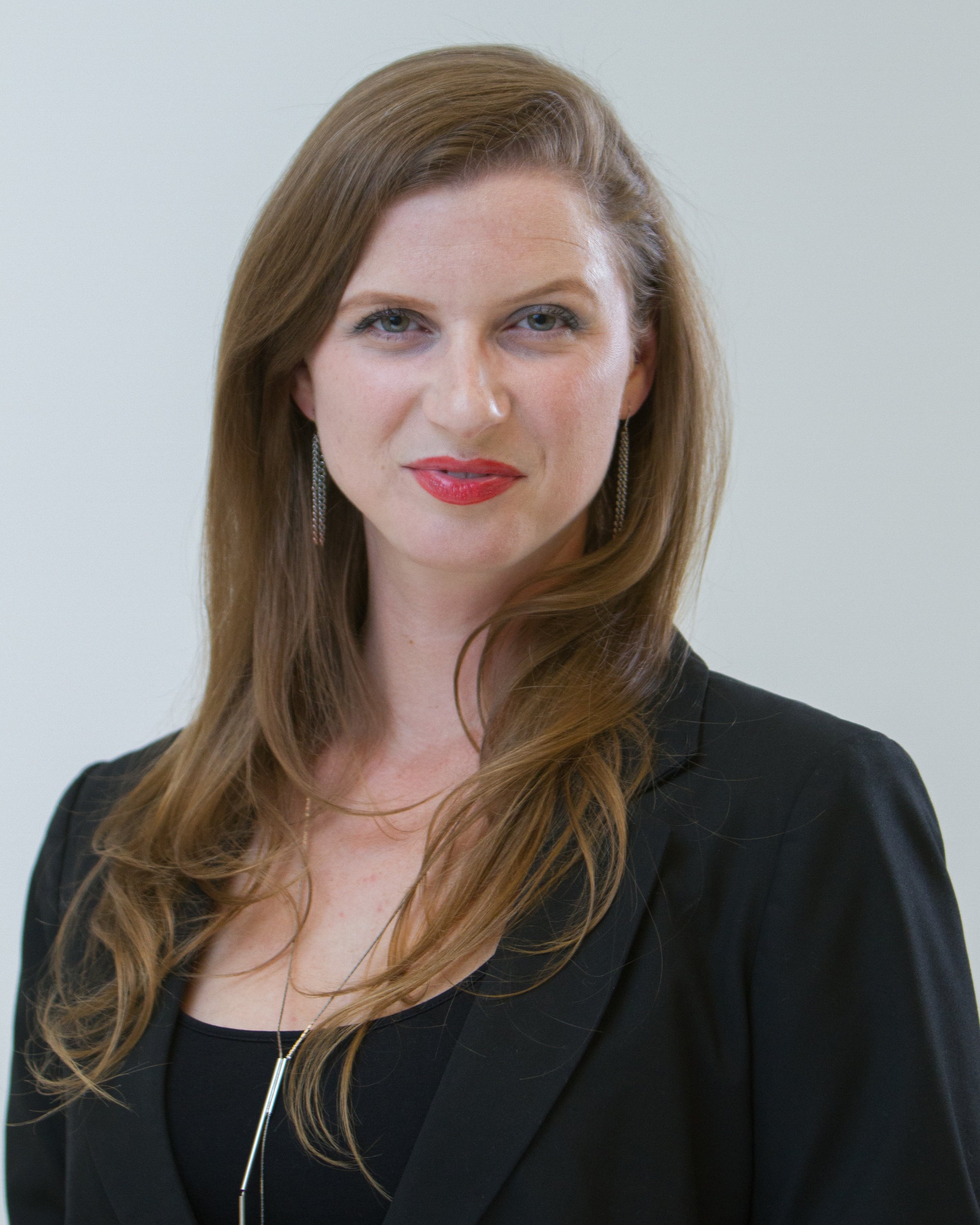 Posted by
Nicole Rupersburg is a content and conference producer for influence group focused on education healthcare and hospitality. She also is a frequent freelance writer covering food, travel, arts, culture, and what-have-you.
Join us at HEFF!
An interactive retreat for facilities leaders at the nation's top colleges and universities.
Nov 13-15, 2022 | Palm Springs, CA
Learn More