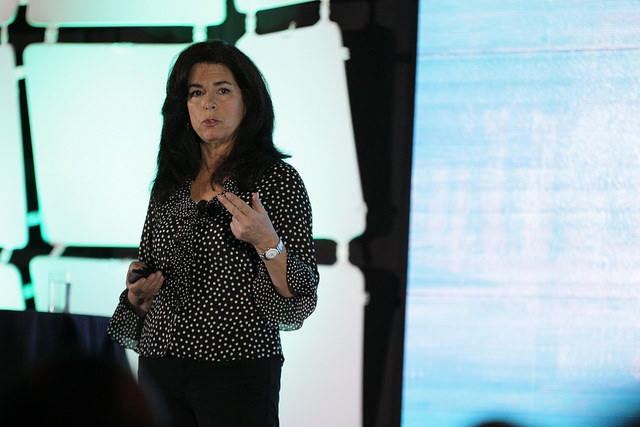 As we press further into the 21st century, it has become increasingly important for our schools and universities to meet a higher standard. Not only must they endow students with all the skills they need in the digital age, they must also be champions of the era's sustainability goals.
This is why new campuses need architecture that takes leadership on environmental issues. At HEFF 2018, we got an inside look at how some of the nation's most innovative projects are accomplishing just that.
Diana Allegretti, Director of Design & Construction of the new Cornell Tech campus, walked us through the challenges of designing and building a facility with cutting-edge sustainability features.
A Winning Vision
In 2011, Cornell University won a competition to build an applied sciences campus. The competition was hosted by the city of New York, which granted Cornell $100 million and a free tract of land on Roosevelt Island as a reward. NYC wanted a new campus that would supply the city with high-tech talent while meeting a variety of sustainability benchmarks.
Cornell won for its proposal's vast scope and meticulous detail, as well as their commitment to integrating environmentally-friendly design features. The city required all of the campus buildings to meet LEED Silver standards at a minimum. However, Allegretti and the rest of the Cornell team wanted to do even better.
The City of New York granted Cornell University $100 million and a free tract of land.
Exploring SustainabIlity Options
As Allegretti and her colleagues set to ironing out the details of the campus design, they devoted a great deal of research and testing to determine what sustainable features would be viable at the site.
Ground Source Geothermal Energy
The site was suitable for geothermal energy, which majorly helped the campus maximize its clean energy use. Extensive geothermal piping on the campus allows for its LEED Platinum building, the Bloomberg Center, to be heated exclusively with geothermal energy. This Net Zero building doesn't burn any fossil fuels.
Wind Power
This was one option that just didn't work out. Allegretti and her team used LIDAR to track and analyze the wind patterns on the site. This monitoring revealed that ideal winds for wind turbines were not present, and therefore, it was not worthwhile to invest in wind energy.
Hydrodynamic Energy
Surprisingly, this option wasn't viable either. Given that the campus is framed by the western and eastern channels of the East River, it seemed as though there was a big opportunity to harness the river's tidal forces. The team prototyped water turbines and put them to the test, but since the river has bi-directional currents, the prototypes couldn't generate enough energy. River debris also obstructed the turbine blades.
Photovoltaic (Solar) Energy
Solar energy integration was worked into the design early on, as the city required solar installations to be seamlessly integrated into the architecture. Bloomberg Center has a 26,000 SF/500 kW solar canopy, while the bridge has a 18,000 SF/300 kW solar canopy.
The Bloomberg Center is a Net Zero building and doesn't burn any fossil fuels.
Water Recycling and Treatment
A 40,000 gallon Rainwater harvesting tank was installed to catch rainwater from the rooftop of the Bloomberg Center, then filter and treat it with UV waves. This water is recycled for use in toilets, urinals, and lawn irrigation. Additionally, 6 Bio-swales were built on the campus grounds to serve as stormwater retention points and natural filtration zones. This allows only clean water to pass into the river.
Passive Living
The campus residential facility is the world's first residential high-rise built to Passive House standards. Its features include:
Optimum solar orientation and shading

Compact, airtight shape & continuous insulation

Thermal bridge-free construction

Energy efficient appliances and lighting

Minimum space air conditioning system
The Importance of Aiming High
Construction on the Cornell Tech Campus began in 2015, and is still underway. It opened for use by students and faculty in the fall of 2017. Plans for future construction include the building of several more facilities on the site. By the end, the campus will total over 1.2 million square feet of innovative, sustainable learning and living space.
As Allegretti came to the end of her presentation, she closed by urging other facility leaders to set their goals high too. It's important to explore possibilities and strive for maximum impact. Even if all attempts don't work out, the ones that do pay off with great success.
---
For more on innovation in campus facilities, join us at the Higher Ed Facilities Forum, taking place April 7-9, 2019 in Hollywood, FL.