When thinking of the college experience, one might envision dorms full of coeds, large lecture halls, and picturesque campuses. And each of these elements fall within the purview of the facilities department.
As institutions of higher education continue to think of their future, the utilization of space has taken on new importance.
Gordian's recently released "State of Facilities" report explores the long-term strategic changes facing facilities departments across higher education institutions, particularly around space usage and the campus community.
Dave Irvin, associate vice president of facilities at Florida State University; Lander Medlin, executive vice president and CEO of APPA; and Pete Zuraw, vice president of market strategy and development at Gordian, joined the Higher Ed Facilities Forum to discuss the role facilities will play in the future of higher education and how they can use their expertise to address not only space, but health, safety, and well-being.
"What we learned in the past year were a lot of lessons applicable not only in the pandemic, but in how we serve the institution in transforming campus," Irvin said. "Basic things like how to make a building safe and healthy, how we can use smart technology to leverage that, and how we utilize space. As facilities folks, that's our wheelhouse, but we're not always asked those questions. The pandemic made us front-and-center and made us lead these discussions."
Take a Seat at the Table
When the COVID-19 pandemic began, many universities scrambled to determine the best path forward. While most staff and students left campus to work and learn remotely, those in facilities stayed behind.
While much of that initial work was reacting to day-to-day changes, Medlin said, facilities leaders quickly took the helm of planning for the future.
During COVID, many decisions needed to be made quickly, Zuraw said.
"Schools needed clear, assertive, deliberate decisions," he said. "Those decisions exist in facilities offices all the time. Choices have to be made due to deadlines, regulations, or processes on campus. That kind of deliberation isn't always present in other areas of campus."
And so, facilities leaders became strategists, Medlin said, dealing with complex issues and dealing with decision-making at the highest level.
"We led our institutions through that phase of recovery and that leadership will determine our continued relevance," she said of facilities' impact on higher education institutions.
It's a momentum that Zuraw, Irvin, and Medlin said can't be lost. Instead, it should be expanded to areas that don't just include physical space.
"These folks have a really invested opportunity to affect the quality of the student experience, the education experience, and the research experience, but also the quality of all other pieces of the institution beyond the edge of what we think of campus proper," Zuraw said.
Rethinking Space
With the opportunity to make a larger impact on campus infrastructure and culture, facilities departments have begun to make decisions regarding how space should be used following a year of COVID-19 changes.
"I think there should be a fundamental shift in how we should look at space," Irvin said. "Not every institution has recognized that, but it has changed dramatically and we need to respond to that change."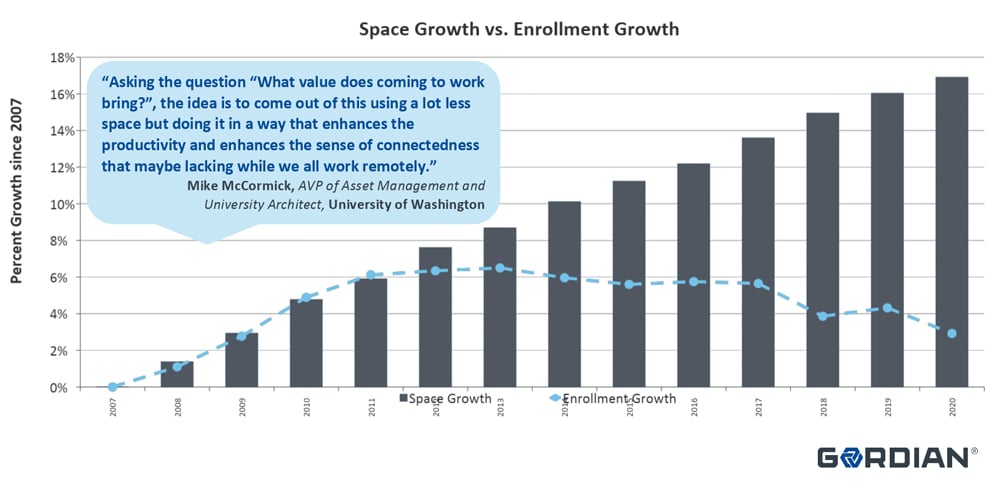 When COVID hit, Irvin said, Florida State University was in the middle of a new campus master plan.
"It was traditional: a lot of buildings, new mall landscapes, more grounds, more square footage," he said. "Now we've taken a new look. We've dramatically reduced the number of buildings."
With a shift to online learning, the university has found that larger lectures do well on platforms like Zoom, reducing the need for large lecture halls. Additionally, with staff working remotely, Irvin said the school is looking at hoteling and touchdown space rather than buildings full of offices.
Zuraw, pointing to Gordian's "State of Facilities" report, notes that facilities leaders must address use by considering that fewer students and staff will likely be on campus in the future.
"There is a misalignment between how much space we have built and how much space is necessary," he said.
Medlin said other universities are now considering removing buildings from their rosters. For instance, the University of Iowa, which has been studying their space for years, has made the decision to eliminate five buildings.
"They believe given the condition of the buildings and where they are headed, they have the opportunity to do that," she said of the university taking remote learning and work into consideration.
Focus on Healthy & Safety
For many years, higher education institutions were at the forefront of the LEED movement, building with sustainability and environment in mind.
Now, they find themselves similarly positioned when it comes to ensuring the health and well-being of building occupants, in some cases utilizing WELL certifications.
"That's a critical piece," Medlin said. "It's about healthy indoors and outside."
Zuraw said that focusing on health and well-being is just one of the connective tissues linking health and welfare to the performance of spaces.
"It's building on a relationship," he said. "Linking healthy and smart together. Smart has been there a while, but it was always seen as an expensive tech toy. Now we're saying it's about creating an environment and satisfactory health environments."
Irvin agreed, noting that faculty leaders need to seize the opportunity to focus on and educate their colleagues about how buildings can impact health and well-being.
He recalled a recent meeting in which faculty members were discussing the need to replace all the campus windows so they would open, increasing air circulation. Another staff member explained the university already uses high-grade filters for that reason.
"It's a great example of us being involved in conversations that we haven't been before," he said. "It allowed us to have a great conversation about what we're doing."
Embracing Technology
The use of smart technology in facilities can help drive the future of how institutions use their space, while maintaining health and safety.
"The short-term response to the coronavirus had unintended consequences of establishing a new floor for what constitutes a healthy space," Medlin said.
And that can be aided by technology, she said, including tools that are able to create predictive analytics to make good business decisions.
"It can also help us capture places for energy conservation and capture how our own delivery system can be streamlined, and help think of the occupant. The more we think about it the better we'll be," she said.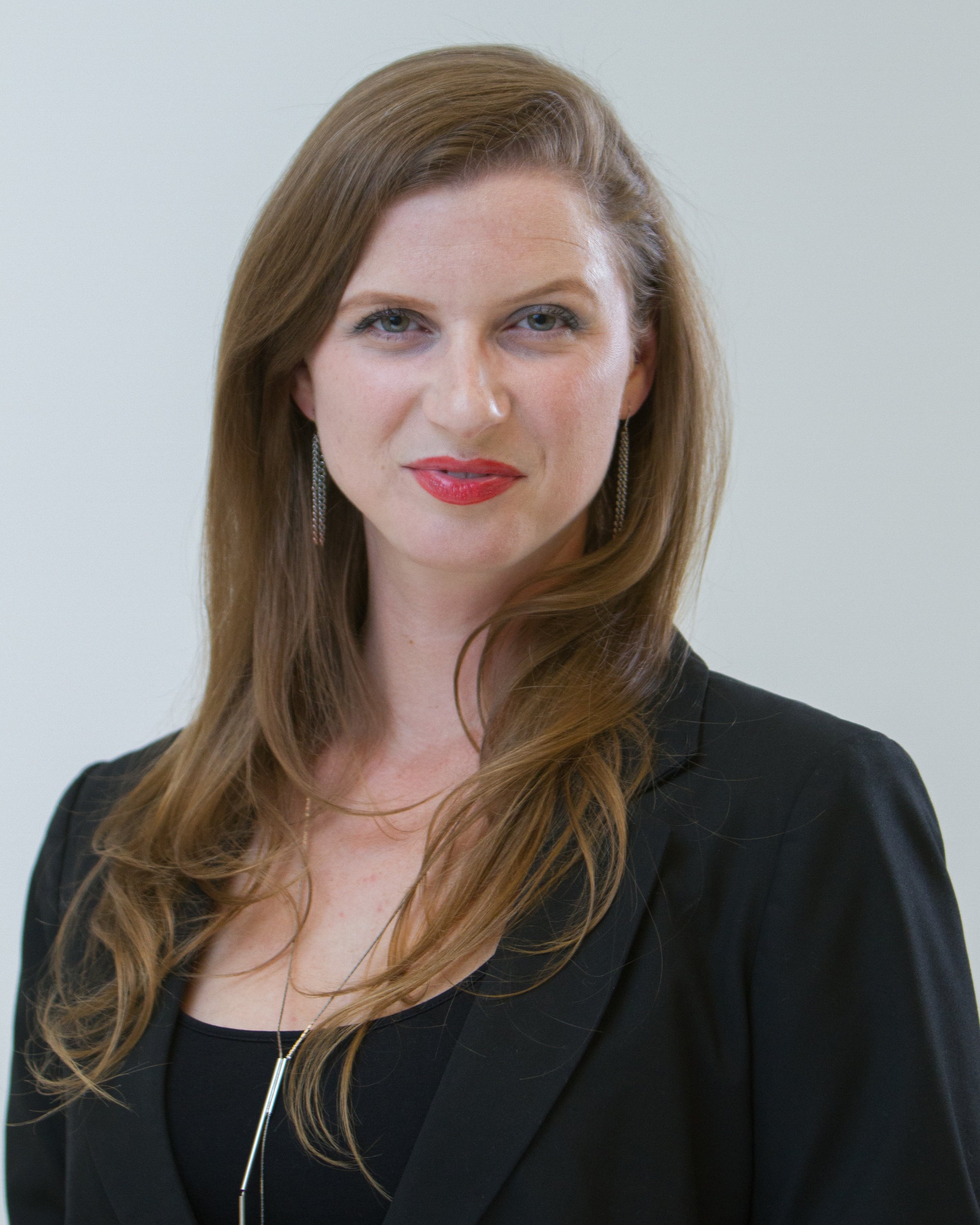 Posted by
Nicole Rupersburg is a content and conference producer for influence group focused on education healthcare and hospitality. She also is a frequent freelance writer covering food, travel, arts, culture, and what-have-you.
Join us at HEFF!
An interactive retreat for facilities leaders at the nation's top colleges and universities.
Nov 10-12, 2024 | Tempe, AZ
Learn More